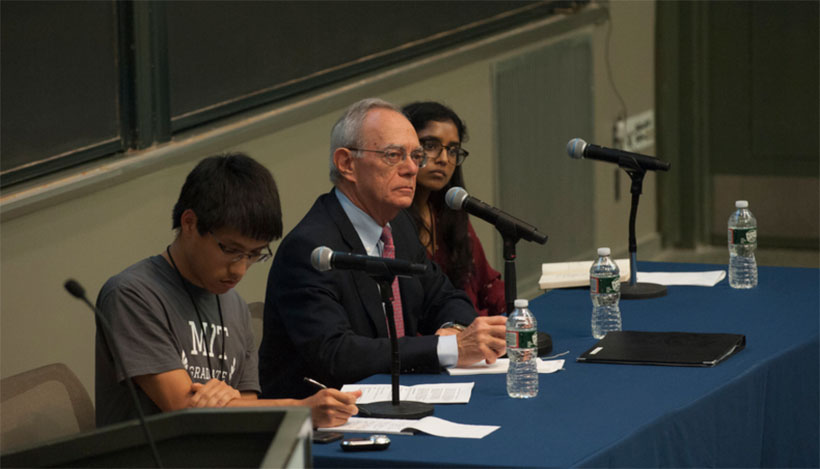 IBL News | New York
As 2019 comes to an end, it's time to review the year's breaking news in online education.
Here's the IBL editor's top-10 list, dominated by the Epstein's scandal at MIT, the sale of Instructure/Canvas, 2U's collapse, and the push-out of Pearson's CEO.
1  The MIT Media Lab's Scandal: Its Director Resigns After Lying Over His Ties to Epstein
As a result of it, MIT started to examine its engagement practices with gifts and grants. [President Reif, in the picture above]
2  2U Shares Continue to Drop After the Company Announcement of Big Losses
Previous to the collapse, 2U acquired Trilogy Education for $750 million and duplicated its portfolio of universities.
3  An Equity Investment Firm Buys Instructure for $2 Billion, Taking It Private
Earlier in the year, Instructure / Canvas LMS bought the Portfolium digital portfolios company for $43 million.
4  Pearson Pushes Out His CEO After a Dramatic Tenure Full of Sales and Job Cuts
Six additional stories caught our attention:
5  The Open Education Conference Falls Apart, Leaving a Community of Passionate OER Supporters
6  ISTE Conference Organizer Absorbs EdSurge Media – Investors Won't Be Rewarded
7  Over 1,000 Students Will Graduate from Georgia Tech's Online Master in Computer Science
8  Harvard Changes Its Caption System to Settle Deaf Association's Lawsuit
9  University of Oxford Will Invest $190 Million on Humanities and Create an Institute for Ethics in AI
10  IBM Launches a Blockchain Credentials Network – A Community College At The Forefront