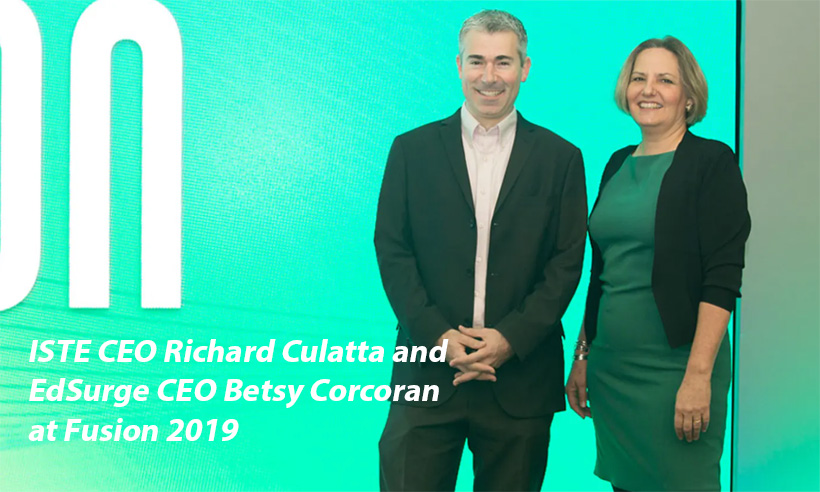 Mikel Amigot | IBL News, New York
ISTE, a 40-year-old nonprofit that annually hosts one of the most influential edtech conferences, acquired EdSurge for an undisclosed amount, in a transaction expected to be finalized by the end of the year. The announcement came yesterday by surprise at the EdSurge's Fusion conference.
Burlingame, California-based EdSurge, that provides journalism, research, job offerings, events, and other edtech services, will become a nonprofit media organization by joining ISTE. Its shareholders, including investors such as Reach Capital, GSV Capital, and TAL Education, will not receive any return on their investment, according to Richard Culatta, ISTE's CEO since 2017.
EdSurge will keep its brand on news stories, newsletters, and research. Most of its 30 employees will be hired as staff members, although headcount reductions were announced. "Any time when you look at combining teams and roles, there's always the chance that there are redundancies," Culatta said.
"Core to this acquisition, however, is maintaining EdSurge's journalistic independence," Betsy Corcoran, CEO at EdSurge, said in an email to readers. "What this arrangement gives us is an opportunity to focus on the work—not just focus on paying the bills, not just focus on survivability," she added.
Founded in 2011 as a venture-backed, for-profit news organization, EdSurge raised more than $8 million from a mix of investors and received millions of dollars in grants from nonprofits and foundations, such as the Chan Zuckerberg Initiative, NewSchools Venture Fund, and the Bill and Melinda Gates Foundation.
With a revenue stream of over $16 million, staff of 60 employees and 25,000 membership educators, the Arlington, Virginia-based ISTE, publishes books and research journals. However, two-thirds of the income came from the annual conference.
In 2017, its CEO started talks about buying a news-media outlet. He ended up buying EdSurge, although he didn't write "a big check", he said. Betsy Corcoran confirmed that the acquisition did not come with a huge price tag.
Jeffrey R. Young, senior editor at EdSurge, and Stephen Noonoo, K-12 editor in the news site, posted a detailed story about the antecedents of the transaction yesterday.