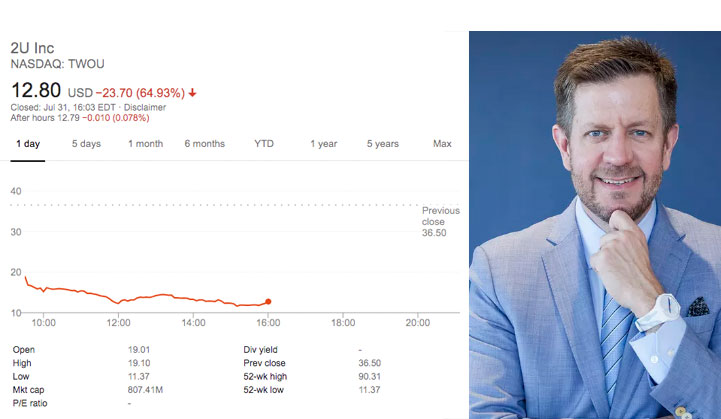 IBL News | New York
The stock price of 2U, the leading OPM (Online Program Manager) provider which partners with universities, plunged over 65 % on Tuesday and Wednesday, projecting doubts about its controversial business model. The stock hit a five-year low of $12.
The drop started when the company warned on a conference call with investors late Tuesday that growing competition was hurting enrollment at the online programs it runs for schools.
Wall Street analysts sounded as if they felt blindsided by management's outlook, and pulled its Buy recommendation, as well as axed its target prices for the stock.
A year ago, Barron's warned that 2U's "hefty fees meant that its university partners charged high tuition prices for online classes—leaving students saddled with almost as much debt as if they had come to campus."
"When we started 2U, the market was in its infancy," the CEO told listeners on Tuesday's call. "Today, the online education market is evolving. Competition for students has increased so the schools that have teamed up with 2U are seeing lower enrollment than in years past."
Another threat to revenue growth is new regulation that could prevent California students from being eligible for federal funding for online courses.
Paucek declined to discuss the company's plan to reach a positive cash flow and lowered the number of the new graduate programs it aims to launch next year to "substantially fewer than 21, probably less than half of that." He said he'd share more details at an investor event in November.
Regarding 2U's business' challenges, Paucek noted, "matching courses with lead professors takes more time than expected even after we signed a deal with the university." He later added: "We really underestimated that in a substantial way, and that caused us to get behind."
Earlier this year, 2U paid $750 million to acquire Trilogy Education Services, which offers universities coding boot camps. In 2017, it purchased GetSmarter to jumpstart its self-paced, short-course offering.
• Phil on Ed Tech: July 30, 2019: The day the OPM market changed
July 30, 2019 – the day the OPM market changed. 30 minutes into 2U ($TWOU) earnings call, stock down 25% in after hours trading. 2U is moving from primarily rev-share grad program OPM business into diversified business including full-university deals, fee-for-service, 1/

— Phil Hill (@PhilOnEdTech) July 30, 2019