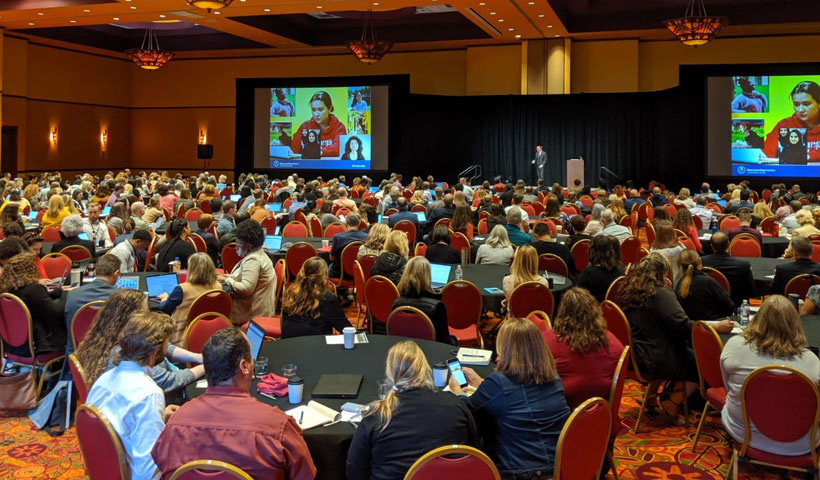 IBL News | New York
The OpenEd Conference's future is unclear. Last week, during this year's edition (Phoenix, AZ, Oct 30 – Nov 1), their current organizers, David Wiley and Lumen Learning, announced that they will step away.
"This year's conference is the last I plan to organize," said David Wiley, Founder and Chief Academic Officer of Lumen Learning and Education Fellow at Creative Commons, said in a statement.
"As currently constituted, the conference does not leverage all the energy, enthusiasm, passion, and leadership ability in our increasingly large and increasingly diverse community," Wiley explained.
Momentous news from our cofounder @opencontent today about the Open Education Conference. It's an exciting time for the OpenEd community, and we look forward to seeing what this revisioning brings. https://t.co/obf7Tpts0Y

— Lumen Learning (@LumenLearning) October 30, 2019
The Open Education Conference, the primary OER-related gathering in the U.S., reached its sixteenth year.
This year's edition attracted a record attendance of 850 people interested in open educational resources and practices. [Picture above]
Since its creation, the event generated a sense of community; participants met, shared ideas and fostered collaborations.
Analyst and consultant, Michael Feldstein, explained, "OpenEd was always at least partly an exercise in coalition politics. The attendees were a mix of people coming with different primary and secondary goals that overlapped enough for them to make common cause. That coalition has crumbled. In fact, it has been crumbling for some time."
Researcher and professor George Siemens tweeted "adjourning a central community will damage, at least in the short term, the overall #opened movement. Groups will spin-off, driven by individual's identity (we saw this in the lead up to the social media conversation). Fragmentation. Antagonism."
Whether new organizers will handle the conference is unknown at the moment. "This is not a call for another person or organization to come forward to keep the same conference running the same way into the future," said Wiley.
"It is not the end of OER or open education. But there are multiple paths leading forward from here," wrote Michael Feldstein.
Community input is being already shared on Google Doc.
Provide your input on the future of the OpenEd Conference! See below for links for both the community-created feedback form and where to view responses. #OpenEd19 https://t.co/BCs4q3V1WW

— Open Ed Conference (@openedconf) November 1, 2019
Well That Was a Memorable OpenEd Conference https://t.co/n08sY1uWtU pic.twitter.com/FreOicYwwA

— Phil Hill (@PhilOnEdTech) November 2, 2019
Hey #OER peeps. @SaltLakeCC surpassed 10 million in savings. We are running 801 open sections this fall. @Jeffaird @brenda_utah @evolprof @TimBeagley @TJS2266 @SLCCHuftalin @CNBlank @a_canavan @acorbettscott @opencontent @OpenStax @LumenLearning @open_textbooks @AdamDastrup pic.twitter.com/5GZPAqHp4m

— Jason Pickavance (@jpickava) October 24, 2019