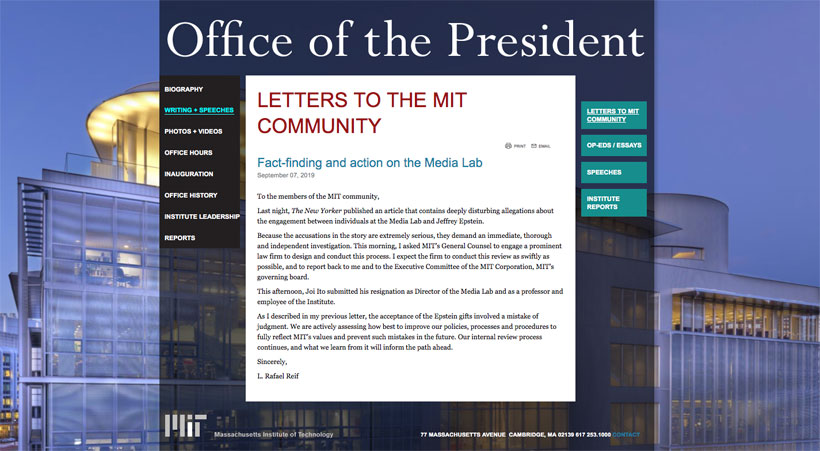 IBL News | New York 
Joi Ito, the director of Media Lab and professor at MIT, resigned Saturday over his ties to convicted pedophile and accused sex trafficker Jeffrey Epstein.
"After giving the matter a great deal of thought over the past several days and weeks, I think that it is best that I resign as director of the media lab and as a professor and employee of the Institute, effective immediately," Ito wrote in an internal e-mail.
In a message to the M.I.T. community, Rafael Reif, the president of M.I.T., wrote, "Because the accusations in the story are extremely serious, they demand an immediate, thorough and independent investigation." Rafael Reif announced that M.I.T.'s general counsel would engage an outside law firm to oversee that investigation.
"The acceptance of the Epstein gifts involved a mistake of judgment," stated Reif.
According to a New Yorker investigation, the prestigious MIT Media Lab received at least $7.5 million from Jeffrey Epstein and Ito would allegedly ask that the donations were counted as anonymous. "New documents show that the M.I.T. Media Lab was aware of Epstein's status as a convicted sex offender and that Epstein directed contributions to the lab far exceeding the amounts M.I.T. has publicly admitted," explained The New Yorker.
Emails reveal donations cover-up
Joi Ito [in the picture below] resigned just hours after The New Yorker published emails showing how he had attempted to conceal donations from Epstein.
The embattled director of the Massachusetts Institute of Technology's Media Lab had previously apologized for accepting money from Epstein for the lab and for his own personal ventures.
The newly disclosed emails show he didn't just make the wrong call in accepting the money, as he explained to lab members as recently as Wednesday: he also ordered that Epstein's donations be listed as "anonymous" going back years, as Epstein had been disqualified as a donor following his 2008 conviction for soliciting sex from a minor. Epstein was facing additional charges before his death on a prison cell this summer.
"Top MIT officials knew of Epstein's ties to Media Lab, e-mails show," titled yesterday The Boston Globe.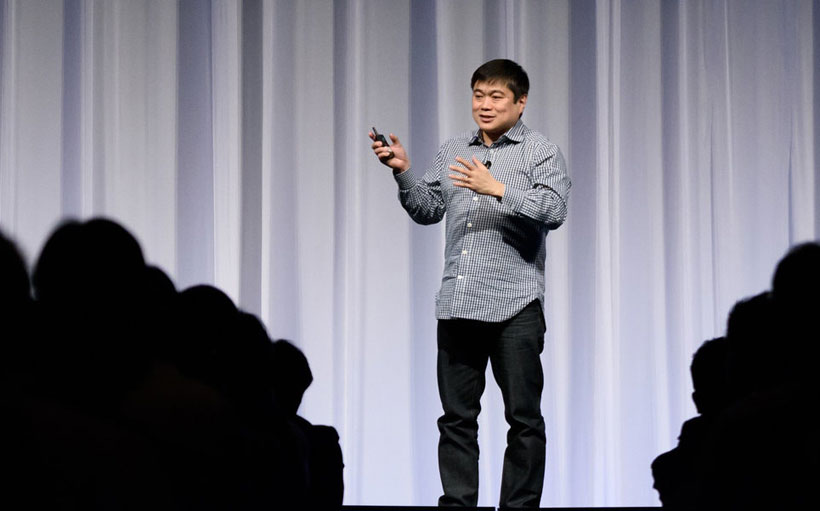 Professor at Harvard, too
The New York Times reported that Ito also left the boards of the MacArthur Foundation, the John S. and James L. Knight Foundation and The New York Times Company, as well as a visiting professorship at Harvard University.
One of Ito's emails reportedly says that Epstein directed a $2 million gift to the lab from the Bill Gates, but the Gates Foundation has denied any business connection to Epstein.
Brown University announced that it has placed its director of development for computer science and former MIT Media Lab director of development and strategy, Peter Cohen on administrative leave, The Providence Journal reported.
Peter Cohen forwarded a request from Epstein to another colleague at MIT with the note: "Jeffrey money needs to be anonymous. Thanks."
"Like its parent university, the famed research center became far too comfortable selling its prestige. Even to Jeffrey Epstein," writes Justin Peters in an article on Slate titled "The Moral Rot the MIT Media Lab".
"Jeffrey Epstein used MIT to launder his image. It's a lesson for the #MeToo era," writes Vox. "Revelations about the sex offender's connections to the MIT Media Lab are a reminder of the power of enablers."