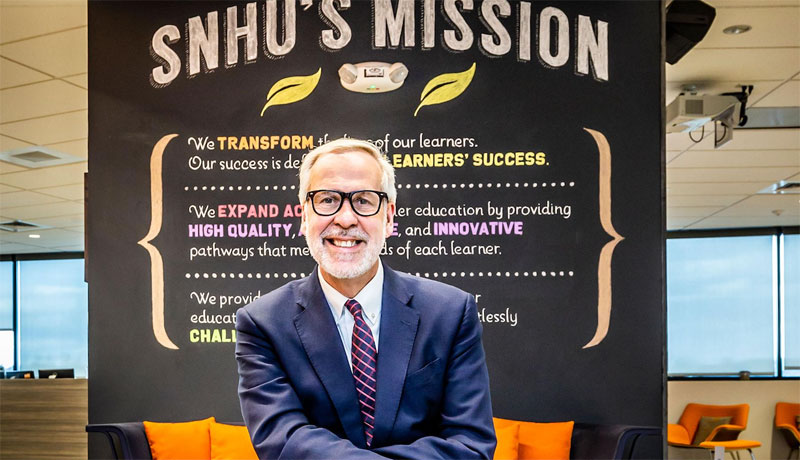 [ Newsletter format  |  Click here to subscribe ]
JUNE 2019  –  NEWSLETTER #23 ON ONLINE EDUCATION AT SCALE
HIGHER ED
• SNHU, with 135K students and an army of 6k adjuncts, wants to be the "Nordstrom's of higher education", says its president Paul LeBlanc.
• NY University System will focus on increasing its online presence.
• "Emerging markets are a large opportunity to boost online enrollment", says Emeritus CEO.
• Higher education enrollments will continue its decline throughout the next decade. College closures will increase in 2019.
ACADEMIA
• Canadian educator Heather Payne says that tenure should be abolished.
• Ángel Cabrera, George Mason University's president, named the sole finalist for the Georgia Tech presidency.
• Michigan State named Stony Brook president as the new leader. Samuel Stanley Jr. created 240 faculty positions.
• A billionaire investor pledged to pay off the student debt of Morehouse College's 396 graduating young men during his commencement speech.
• USC's partnership with 2U didn't work at all. The school is facing a budget crisis that may result in nearly half of the staff losing their jobs.
INDUSTRY
• Walmart expanded the $1 a day degree program to more universities.
• OpenSesame corporate learning marketplace, with 20,000 courses, raised $28 million to help it grow faster.
• SAS software provider debuted in higher education with an advanced cloud-based analytical solution. Jenzabar improved its analytics suite.
RESEARCH
• Carnegie Mellon University released its first wave of open-source learning tools. Interview with the leader behind the initiative.
• Tecnológico de Monterrey released an elaborated report on alternative credentials (PDF).
VIEWS
• Actionable data is the most disappointing late arrival in teaching and learning in higher ed.
• Online education doesn't work for disadvantaged populations, those unprepared for college and first-time students.
• Achieving 85% completion rates for online courses.
• It's all about money? There is no difference between for-profit and public higher ed, said George Siemens.
• Instructional designers forget what makes a course successful.
• A model involving faculty for course design.
• An Institution prepares students for jobs which won't be automatized.
• Netflix-style service Cengage Unlimited reaches 1.5 million subscribers.
2019 UPCOMING EVENTS
• Education Calendar  –    JUNE  |  JULY  |  AUG – DEC 2019
---
This newsletter about learning innovation is a monthly report compiled by IBL News and IBL Education. If you enjoy what you read please consider forwarding it to spread the word. Click here to subscribe.
Archive:
IBL Newsletter #22– May 2019
IBL Newsletter #21– April 2019
IBL Newsletter #20– March 2019
IBL Newsletter #19– January 2019