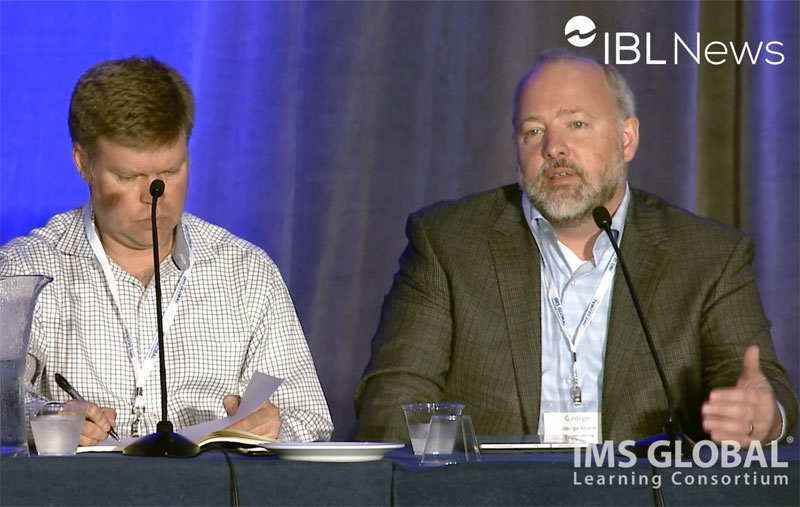 Zoe Mackay | IBL News
Cengage Unlimited, launched last September, has reached 1.5 million subscribers to date. George Moore, CTO at Cengage [in the picture], spoke to this success on "The Changing EdTech Business Model" panel at the IMS Global Learning Consortium. The panel was moderated by Ray Henderson, and Moore was joined by Curtiss Barnes, Melissa Loble, and Jason Palmer.
"Software is eating the world, " said Palmer, a General Partner at New Markets Venture Partners. "All jobs are tech jobs. All companies, no matter what those companies are, are in fact tech companies. Everything has been digitized."
Barnes, a Managing Director at Pearsons, noted that a clearly evident trend in edtech is that technology "is not transformative. It just is." Particularly for what he calls the current generation of learners, Gen Z, technology "is part of their daily life."
Moore agreed, following Barne's train of thought, saying "technology is. It's not another modality." Nine months after it's launch, Cengage Unlimited has 1.5 million subscribers and has saved $60M for students to date. Moore estimates this number will surpass $100M by September.
Created with the Netflix subscription service as a model, Moore says that "from an affordability perspective, we feel it's very successful. From an adoption standpoint, students love it…this is how they buy music [and] videos." The commercial model was created for students, "to help them with their 100 year learning career."
Loble, a SVP at Instructure, has been shifting their emphasis on the full journey, "from the first day of school to the last day of work." This learning continuum, as she refers to it, necessitates being aware "of where there are skills and where there are gaps" so lifelong learning flows smoothly.
To watch the full panel discussion, please see the video below.