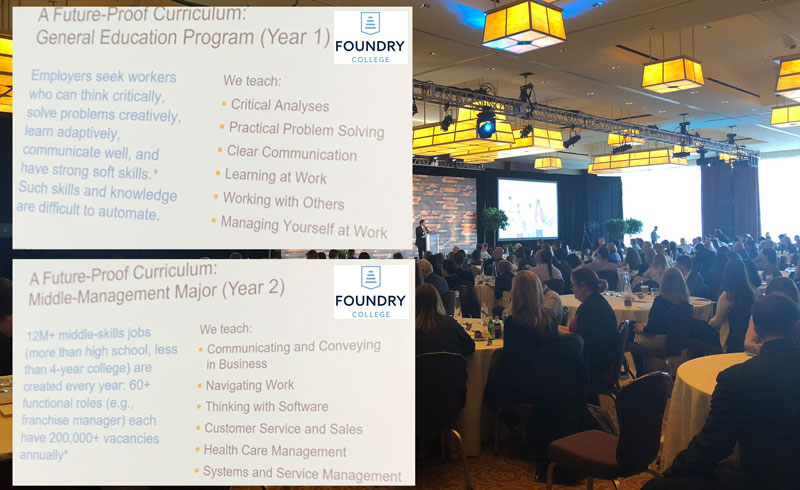 Mikel Amigot | IBL News (Boston)
Job automation has already started. Stats indicate that 10% of American jobs will be automated in 2019. An upsetting forecast indicates that up to 73 million U.S. jobs will be automated by 2030.
But there is hope. First: nearly 2 million new non-routine jobs which machines cannot easily perform are being created every year in the United States. Second: an increasing number of colleges and universities understand the challenge and are starting to prepare students who demand jobs which won't be automated.
Foundry College is one of them. Its Founder, Dr. Stephen Kosslyn, addressed the issue yesterday during the Eduventures Summit in Boston with a physician example. "Diagnosis of illness will soon be accomplished well by machines. But sitting with the family to discuss treatment options will be difficult to automate."
At least two skills are automation resistant: "Recognizing and responding to emotion when communicating and making decisions. And taking context into account when analyzing situations, creatively solving problems, and prioritizing goals," Stephen Kosslyn said.
Foundry College, which is focused on what's difficult to automate, has listed five key underpinnings:
Critical thinking
Creative problem solving
Clear communication
Constructive personal interactions
Good judgment
To pair these essential skills, this institution has reimagined a future-proof, two-year curriculum. On the first year, Foundry teaches:
Critical Analyses
Practical Problem Solving
Clear Communication
Learning at Work
Working with Others
Managing Yourself at Work
On the second year:
Communicating and Conveying in Business
Navigating Work
Thinking with Software
Customer Service and Sales
Health Care Management
System and Service Management
Stephen Kosslyn shares how https://t.co/9xGjOM5I3q is reimagining a two-year education that's future-proofed and focused. It's all about application of ideas to work situations but also lays a framework that goes beyond vocational training. #EVSummit19 pic.twitter.com/TtkSCdxlDr

— Josh Herron (@joshherron) June 6, 2019
Top 10 skills in 2022:

1 analytical thinking and innovation
2 active learning
3 creativity
4 tech design
5 critical thinking
6 complex problem solving
7 leadership and social influence
8 emotional intelligence
9 reasoning
10 systems analysis#EVSummit19 https://t.co/jITnxOryPn pic.twitter.com/bSvvGrjg0w

— Vala Afshar (@ValaAfshar) June 6, 2019