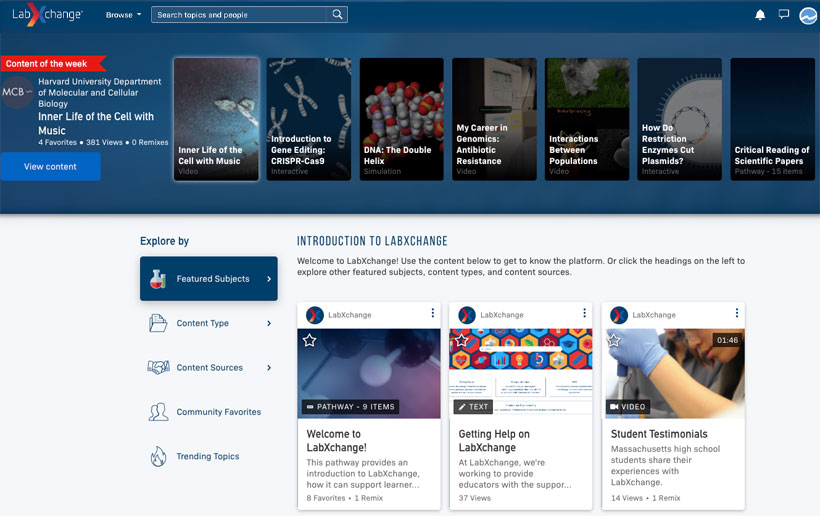 IBL News | New York
edX provided this month with an overview of some of the technical features of LabXchange.org—Harvard University's and Amgen Foundation's recently launched new science education platform. These include a tool called Blockstore, Content Libraries version 2, a new XBlock Runtime, anonymous access, and a new visual assessment editor.
Powered by Open edX open-source software and integrated with edX.org, the LabXchange platform uniquely allows users to freely combine assets together to create and share their own "learning pathways", which contain videos, text, graphics, assessments, lab simulations, and other instructional assets. Much of the content focuses on the biological sciences.
"You can actually pick the ones you want, sequence them into a learning pathway, and create a much shorter experience that's really tailored to exactly what you need to learn," explained Professor Robert Lue, Harvard's faculty director of LabXchange. "We aim to address some of the gaps with current virtual learning, such as the lack of flexibility in the course structure."
The development of the platform and the program took two years. As a founding sponsor, the Amgen Foundation provided $11.5 million in grants. edX and European provider OpenCraft developed the code –partially available on GitHub.
According to the Open edX website, these are the six most prominent features:
Single Sign On. Users can use a single account to learn on both LabXchange.org and edX.org, as the same LMS technology powers both sites.
This was implemented using the auth-backends plugin, which allows any Django-based application to share user accounts with an Open edX instance.
XBlocks. Each piece of content on the LabXchange site, such as a video or interactive simulation, is an XBlock, just like each component of an edX or Open edX course. Most of the XBlocks used for LabXchange are identical to the versions used to build courses on edX.org, although many have a stylesheet applied to match the visual style of the LabXchange site. A few unique XBlocks are used for new content types unique to LabXchange, such as case studies or interactive simulations.
Blockstore. Blockstore is the next-generation content storage system for the Open edX platform, designed to replace the previous "modulestore" and "contentstore" systems that store data in MongoDB. Blockstore is versioned, scalable, format-agnostic, and file-based. That means that it provides a consistent foundation layer that can store video assets, XBlock definitions (OLX), metadata/tags, courses, and other things we haven't yet thought of. Blockstore is designed to be able to hold terabytes of such data without losing performance. It's also deliberately simple, creating a platform that developers can use to build experimental Open edX features and plugins much more easily than ever before.
Content Libraries v2, built using a new XBlock Runtime v2. This XBlock introduces the concept of "Learning Context" to the Open edX platform, where a learning context can be a course, a content library, a LabXchange pathway, a blog post, an admissions test, or any other virtual place where learning can happen. Using the LabXchange site, educators can search these content libraries to find content and assemble learning assets (XBlocks) into new learning pathways.
Anonymous Access – Users can use many features of LabXchange without needing to register an account, including viewing and interacting with learning assets (XBlocks).
Visual Assessment Editor. LabXchange uses a new visual UI and style editor for problems designed to simplify both learning and authoring. It will be available to all in a future version of Open edX Studio. (See the graphic below).
• IBL News, January 24: Harvard and Amgen Announce LabXchange.org, an Open Platform with Scientific Content