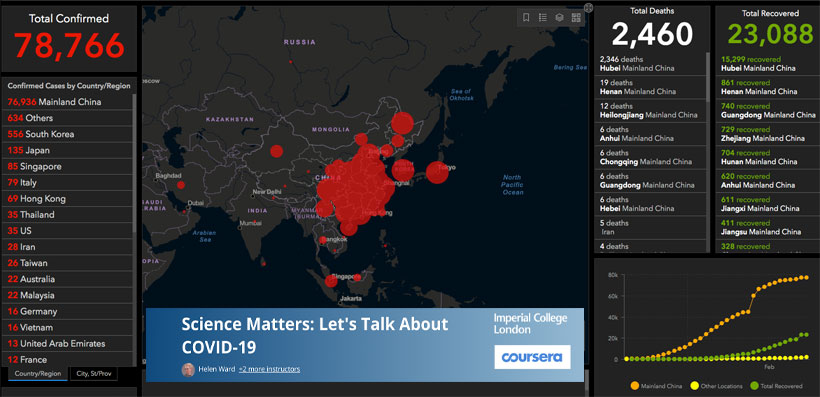 IBL News | New York
As the coronavirus (COVID19) spread goes on, with 2,460 deaths and 78,630 infected so far, online learning resources multiply.
This month, Imperial College London launched on Coursera a free online course about the science behind the response to the virus outbreak.
"Science Matters: Let's talk about COVID19" features on video experts from the MRC Centre for Global Infectious Disease Analysis and Abdul Latif Jameel Institute for Disease and Emergency Analytics who have been working on modeling the epidemic, estimating the epidemic size, transmissibility, and severity since the first confirmed cases.
The course provides with updates on the state of the epidemic and deals with topics including:
Basic Reproduction Number (R0) of an infection
Case Fatality Rate: Why it varies and why that matters
Community participation and the role of social media
Economics of an outbreak
Developments of a vaccine in real-time epidemics
Clinical presentations of COVID19
Imperial College's School of Public Health has launched a number of open specializations including "Epidemiology for Public Health", "Foundations of Public Health Practice" and "Statistical Analysis for Public Health". These specializations are part of Imperial's first fully online degree, the Global Master of Public Health, also available via Coursera.