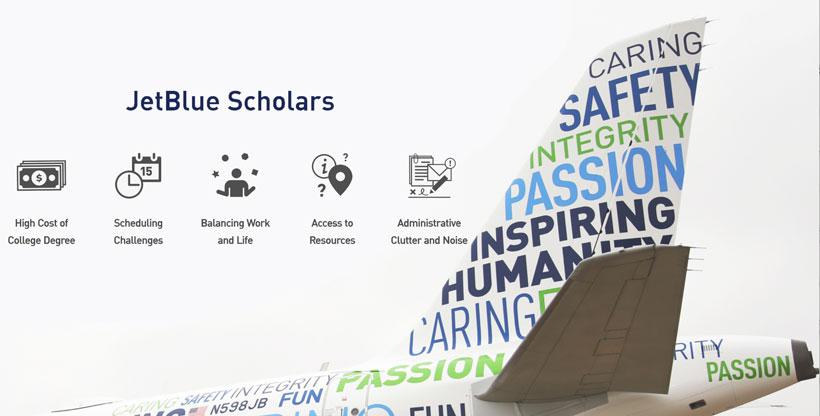 IBL News | New York
JetBlue (NASDAQ: JBLU) announced that nearly 700 of their crewmembers are currently working towards their college degrees through its employer-sponsored education program.
On average, it will take crewmembers about 13 months to complete an associate degree, and 16 months for a bachelor's degree, through JetBlue's Scholars program.
The airline covers most of the costs for undergraduate degrees, with crewmembers saving an average of $14,000 on tuition. It totals over $6.5 million in savings for overall college costs since the program was initiated, according to the company's data.
Thomas Edison State University (TESU) is JetBlue's sole provider of degrees. The four areas of study offered for a degree include business, aviation, liberal studies and information technology (IT).
JetBlue Scholars utilizes low-cost alternatives for obtaining college credits, including learning platforms like Study.com, Sophia.org, and StraighterLine.com. These courses are accepted for college credit at partner school TESU.
JetBlue Scholars, which also includes a pathway opportunity for earning master's degrees, announced in December that it has conferred 250 degrees within three years.
Launched in 2016, JetBlue Scholars was developed based on crewmember feedback. According to the company, the program has proven to be a valuable retention and development tool, leading to increased crewmember engagement and loyalty, resulting in a greater return on investment for JetBlue.