IBL News | New York
Columbia University in New York announced yesterday all classes had been canceled Monday 9 and Tuesday 10 after a school member was exposed to the Coronavirus and is now under quarantine.
"From Wednesday until the start of Spring Break on Friday, classes will be taught remotely," said president Lee C. Bollinger in a message sent to the university community.
"We do not have a confirmed case of the virus on campus. This action is intended to prevent the virus from spreading," Bollinger explained.
The closure came as the city's mayor Bill de Blasio announced the 13th confirmed case in NYC and more than 105 people tested positive statewide.
Governor Andrew Cuomo declared a state of emergency on Saturday.
Columbia University's decision followed a similar decision made by a number of schools—most notably Stanford, University of Washington and Seattle University—to cancel in-person classes.
Resource:
• Columbia Spectator: Columbia temporarily cancels class, quarantines affiliate after exposure to COVID-19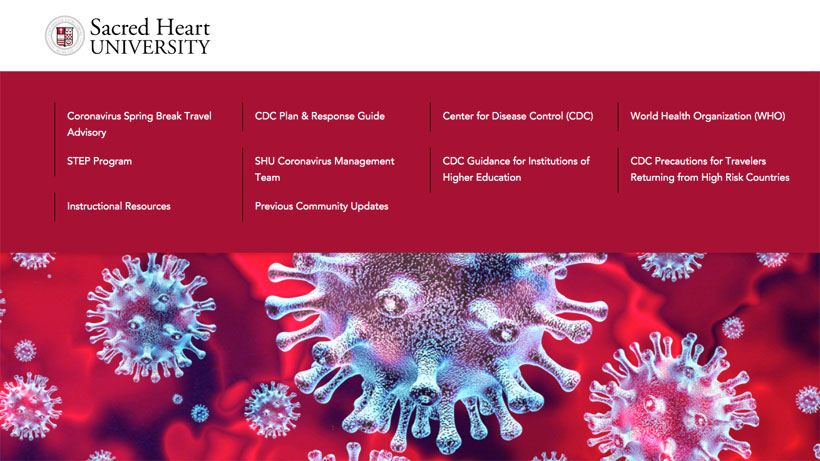 Universities Adopt Emergency Plans
In this context, universities have activated serious measures against the Coronavirus at their campuses. Many of them created specific planning teams to fight the spread of the disease, following the CDC's and local health agencies' recommendations.
School officials sent emails and messages to their communities this weekend. For example, Sacred Heart University (SHU) in Connecticut set a pattern of precautions, along with a thematic website, that could inspire other institutions.
This message was sent to the SHU community this Sunday:
"Dear students, faculty, and staff,
Welcome back from break. In today's update, we want to tell you about the precautions we have taken—and will continue to take—to protect the University community from the coronavirus. These are precautions recommended by the CDC and local health agencies:
Bathrooms in all University housing have been disinfected in anticipation of students' return
Touchpoints (doorknobs, faucets, flushers, etc.) will be disinfected daily with more frequent cleaning and sanitizing of public/common restrooms
Extra attention is also being paid to athletic areas because of the high traffic flow

Gym equipment is disinfected daily and wiped down with Clorox wipes
Hand soap is available in all restrooms and hand sanitizer can be found throughout the gym area
Clorox disinfecting wipes are also available throughout the gym area. These kill 99.9% of all bacteria in 10 seconds

In addition, extra protocols will be in place in dining halls

Food services personnel will go above and beyond in following CDC hygiene guidelines Hand sanitizers will be available to workers at all food preparation sites
Touchpoints (doorknobs, horizontal services, tables & chairs, condiment dispensers, drink dispensers, etc.) will be cleaned often
In addition to other locations on campus, portable sanitizer stations will available for students, faculty, and staff in the dining halls
We ask that you practice good food hygiene—don't touch food with your hands (a piece of fruit, for example) and then put it back

The cleaning staff is available 24/7 to respond to any emergencies anywhere. Monday through Friday from 7 a.m. to 4 p.m., call 203-371-7870. Nights and weekend, students should report issues to their RHD to submit an off-hours MOP request
We are also asking that all students and employees do their part by following the hygiene guidelines set forth by the CDC:
Avoid close contact with people who are sick
Avoid touching your eyes, nose, and mouth
Stay home when you are sick
Cover your cough or sneeze with a tissue, then throw the tissue in the trash
Clean and disinfect frequently touched objects and surfaces using a regular household cleaning spray or wipes
We are in regular contact with our cleaning contractors and food services staff to ensure that CDC guidelines are being followed in all areas of the University.
More information can be found on the coronavirus page on the SHU website. In particular, you may want to check out the Frequently Asked Questions (FAQs) on that page.
We want you all to have a great finish to the spring semester, while at the same time taking the necessary precautions to keep us all healthy and safe."
Beyond these measures, several media outlets paid attention to the pressing questions around the virus. This New York Times' article was one of the most remarkable.