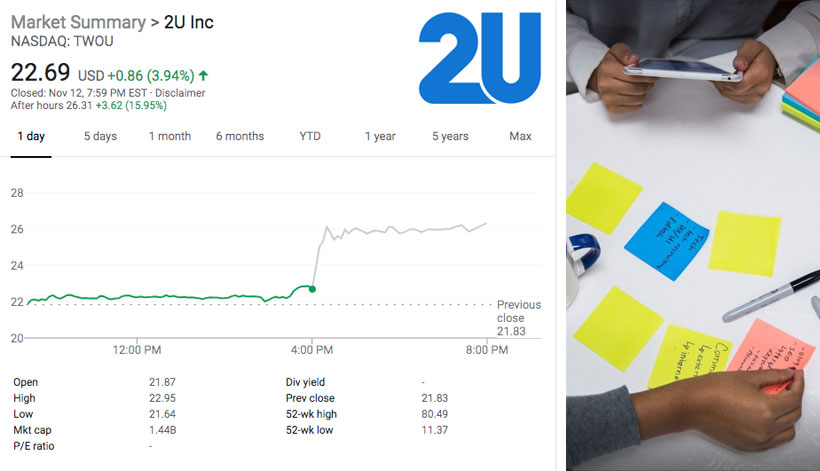 IBL News | New York
2U (TWOU) reported its third-quarter results yesterday exceeding Wall Street expectations.
The Lanham, Maryland-based OPM controversial company said it had a loss of $141.1 million in the period.
The loss per share was $0.41 when the average estimate of seven analysts surveyed by Zacks Investment Research was for a loss of $0.51.
The posted revenue was $153.8 million, which also beat Wall Street forecasts. Five analysts surveyed by Zacks expected $149.6 million.
2U expects a full-year loss of $3.89 to $3.79 per share, with revenue in the range of $570 million to $575 million.
In the final minutes of trading on Tuesday, shares hit $22.69, an increase of 3.94% in the day, and a drop of 56% since the beginning of the year (versus the S&P 500's gain of 23.1%.)
What's next for the educational firm?
There are no easy answers, and the estimate revision trend is mixed. Only one thing is clear: market expectations have changed lately.
It is unclear, however, how the stock fluctuation and the notorious hedge fund's push encouraging 2U to sell the company is impacting on its customer recruitment strategy and overall financial stability.
• Q3 2019 Earnings Call Transcript