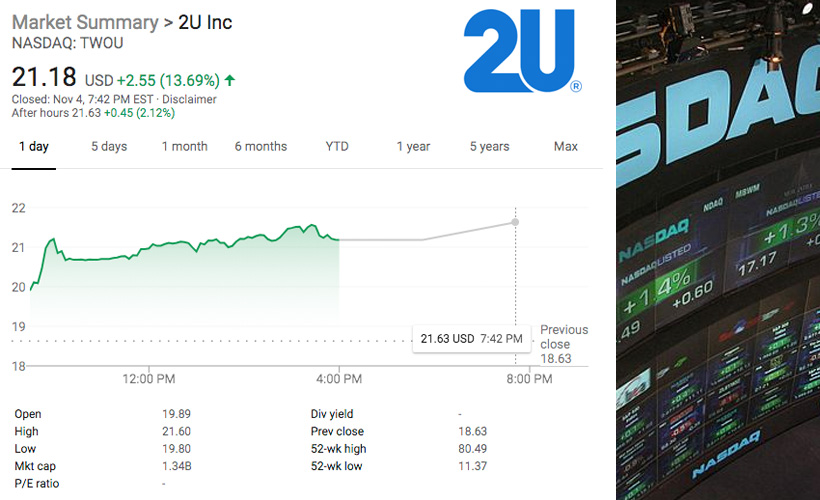 Mikel Amigot | IBL News, New York
Yesterday, Sachem Head set its sight on 2U Inc., pushing the company to explore a sale. As a result of it, the stock registered its biggest gain since 2016, almost 14% to $21.18.
With a market value of about $1.3 billion, 2U saw its shares fall more than 70% over the past 12 months and faced numerous class-action lawsuits for allegedly false or misleading statements during the second quarter. The stock dropped 65% on July 31st after a controversial earnings call wherein its CEO and former CFO drastically tempered short-term growth plans.
The New York-based activist hedge fund has been building a position in OPM 2U (Nasdaq: TWOU), apparently becoming one of the top shareholders, and now saying it's time to sell. The exact size of its stake is unclear.
Sachem Head Capital Management LP, founded by Scott Ferguson in 2012, believes that 2U would be an attractive takeover target for private equity firms and other education technology companies, sources told Bloomberg.
Sachem Head's positions and views tend to move the stock market. For example, the influential fund, that invests $3.2 billion on behalf of clients, recently called on Whitbread PLC to sell its Costa Coffee business before it was spun off to Coca-Cola Co. It also pushed Eagle Materials Inc to split its core businesses, before the company's board agreed to spin off its heavy and light materials businesses into two publicly traded entities.
Last week, Sachem Head announced that it wanted Instructure Inc –whose main product is the leading Canvas LMS platform– to pursue a full sale process, as IBL News reported quoting Reuters.
Instructure (NYSE: INST), with a similar market cap to 2U, was the second education company that Sachem Head targeted, although that move was not apparently related.
2U has been making some changes in management lately in an attempt to calm down investors and arrive in better shape to the crucial earnings call on November 12th. Last month it appointed a new CFO –Paul Lalljie, a former Neustar Inc executive– and new CMO –Jennifer Ogden-Reese, a former SeatGeek Inc. executive.
•  Past reports about 2U at IBL News