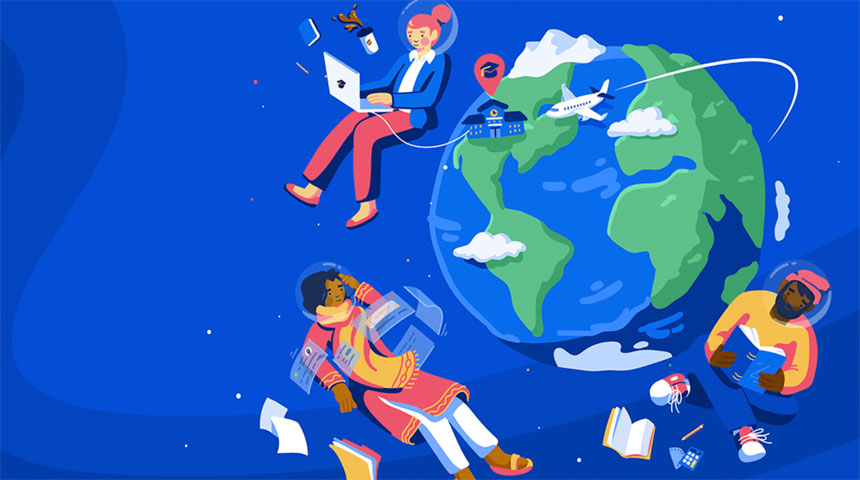 IBL News | New York
Five American companies are among the ten most valuable EdTech companies worldwide, while Indian and Chinese start-ups are ranked first.
"The global EdTech is a broad and diverse field that includes not only the hardware and software programs used in remote learning but also the most effective ways of teaching people new knowledge and skills," said Ahsan Ullah in an article written in Yahoo analyzing the rising of this industry, accelerated by the pandemic.
Education research company HolonIQ predicted that the annual growth rate of EdTech will continue growing 2.5x until 2025, and the global expenditure will reach $404 billion in total. The education technology sector will make up 5.5% of the $7.3 trillion global education market by 2025.
The EdTech companies' top 10 are ranked according to their market capitalization and valuation.
1. BYJU'S: Valuation of $16.5 billion. Based in Bangalore, India, and with 40 million users, of whom 3 million are annual paid subscribers, Byju's provides online courses and enables students to prepare for exams such as IIT-JEE, NEET, IAS in India and international examinations such GRE and GMAT.
2. Yuanfudao: Valuation of $15.5 billion. A Beijing-based platform that provides K12 online courses and tutoring to 400 million users.
3. Chegg, Inc (NYSE: CHGG): Valuation of $11.56. An American company founded in 2005 by two Iowa State University students, that provides 25,000 textbooks titles for students with standardized test preparation, career preparation, and study materials on its website. It offers products like Cheap Textbooks, Chegg Coupon, Solution Manual, eTextbooks.
4. Zuoyebang: Valuation of $10 billion. A Chinese educational platform for online courses, live lessons, and homework help for kindergarten to 12th-grade students.
5. Bright Horizons Family Solutions Inc. (NYSE: BFAM): Valuation of $8.61 billion. An American EdTech company founded in 1986 that offers full-service center based-child care and educational advisory services. It has 26,800 employees.
6. Duolingo, Inc (NASDAQ: DUOL). Valuation of $5.05 billion. The Pittsburgh-based language learning platform, was co-founded by Luis Von Ahn, the inventor of CAPTCHA and reCAPTCHA, and Severin Hacker in 2011.
7. VIPKID. Valuation of $4.5 billion. A China-based start-up for English learning. Today, it connects 800,000 million paying students with 90,000 teachers in the U.S. and Canada. It uses AI in online teaching.
8. Articulate: Valuation of $3.75 billion. A US-based firm that allows users to develop interactive courses that work on their LMS.
9. Udemy: Valuation of $3.3 billion. A US-based marketplace that connects 40 million students seeking to improve their skills with 70,000 expert instructors that offer 155,000 online courses in 65 languages.
10. ApplyBoard: Valuation of $3.2 billion. A Canadian start-up that connects international students, recruitment partners, and academic institutions in one platform. It has partnerships with 1,500 institutions.