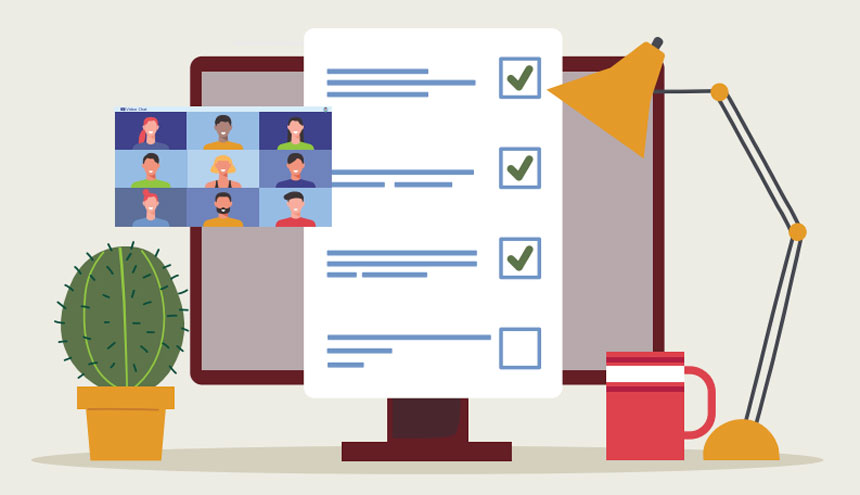 IBL News | New York
A panel of higher education experts gathered by the non-profit professional association Educause generated a list of actions to evolve and grow into an optimized hybrid learning scenario within ten years.
Their action plan was described in the 2022 Horizon Report: Teaching and Learning Edition, available in PDF.
"Everything is hybrid," asserted the panel. "Instructors think strategically about learning modalities, optimizing in-person instruction for activities that are pedagogically better in a shared physical location. Learners' needs are met through flexible and efficient pedagogy, often through modular, remote course offerings." 
These teaching and learning experts from eight institutions and five from Educause provided sixteen practical action items the industry can employ to make this future a reality, such as:
Use research-based methodologies and frameworks for the design of hybrid programs and courses.
Make professional development a foundational part of instructors' jobs. Compensate instructors with time, money, and recognition for participating in professional development.
Support international hybrid learning: recruit and train instructors from all over the world.
Learn more about students' comprehensive needs.
Include experiential learning in all academic programs. Provide opportunities for all students to engage in experiences such as internships, volunteer work, and study-abroad programs across the continuum of instructional modalities.
Expand instructional design capacity. As part of The Great Resignation, higher education institutions are competing with industry for the the best instructional designers.
Establish best practices for sustainable technology-enhanced learning spaces.
Develop and share best practices for equitable teaching and learning.
Define privacy standards for higher education.
Develop funding models for expanding technology access across institutions.
Develop a nonacademic credit pipeline. Learning can happen anywhere.
Establish cross-institutional programs and credentials.
Reevaluate the role of the higher education institution in a consumer-driven world.
Define state and national standards for hybrid learning. Work with partner institutions, industry, and professional associations.
Change federal government funding models. Modify funding models to support what is best for students.
The expert panel roaster included: Julian Allen (Chief Learning Innovations Officer at Georgia State University), Sean Brown Director (Campus Reimagined at Florida State University), Melody Buckner Associate (Vice Provost of Digital Learning Initiatives and Online Education at University of Arizona), Maddy Kadish (Director, Instructional Design at The George Washington University), Jackie Lamoureux (Faculty Fellow Central at New Mexico Community College), Reba-Anna Lee (Assistant Dean of Distance Learning at Northwestern University), Matt Mooney (Director of Digital Learning Experience at University of Utah), and Paula Roberson (Director, Center for Teaching, Learning, and Innovation Hudson County Community College).