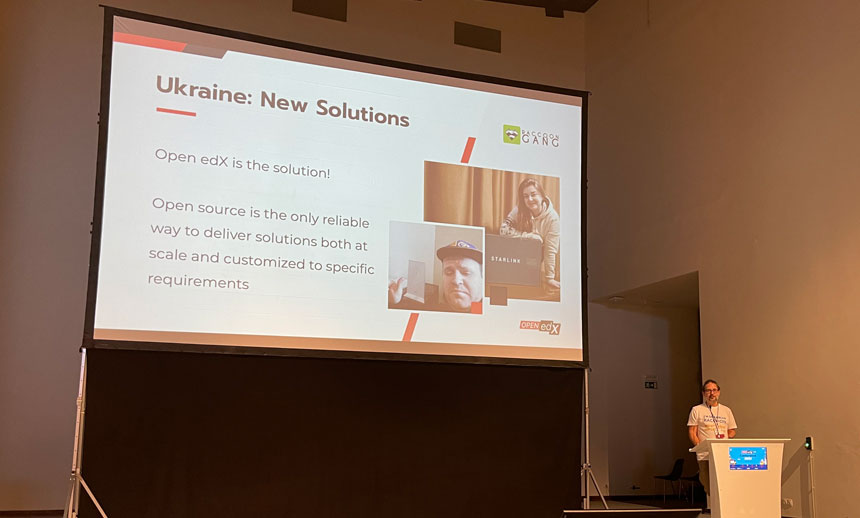 IBL News | Lisbon, Portugal
Ukrainian Open edX provider Raccoon Gang showed up at the annual developers' conference that took place this week in Lisbon, Portugal. The Kharkiv, Ukraine — headquartered firm explained that it continues to be operational by connecting to the internet via Starlink satellite.
Sergiy Movchan, Co-Founder of Raccoon Gang, explained in a brief talk that his company was working for secondary schools in Ukraine by providing Open edX – based online learning platforms.
These schools, controlled by the Government, have shifted into virtual instruction. "Facing new challenges, Ukraine is in desperate need of online educational platforms," Sergiy Movchan said.
"Open edX is the only reliable way to deliver a solution, both at scale and customized level."
Five employees of Raccoon Gang were present at the conference. They all were dressed in blue and yellow-colored T-Shirts saying "I'm Ukrainian Raccoon."
All of these staffers, who currently work outside Ukraine, received support from attendees.
Proud of this group of collaborators who built Ukraine's national learning platform on @openedx with ministry of science and education which has ensured learning continuity for secondary schools and colleges throughout the pandemic & current crisis #standwithukraine #OpenedX2022 pic.twitter.com/DsUgjD1a8y

— anant agarwal (@agarwaledu) April 27, 2022