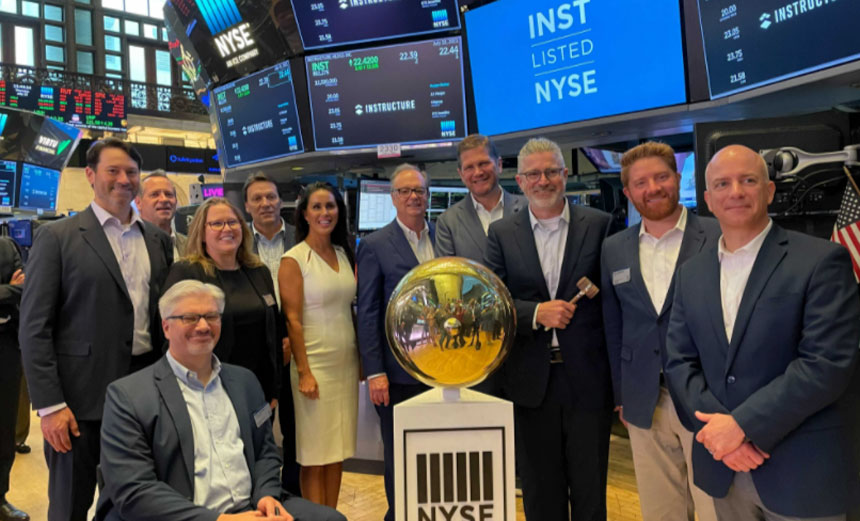 IBL News | New York
Thoma Bravo-controlled Instructure Holdings Inc. (NYSE: INST) returned to the secondary market yesterday after the company that owns Canvas LMS priced its initial public offering of 12.5 million shares at $20 apiece — meaning the company estimates it will raise $250 million, mostly intended to cut its debt of $778 million in the long term.
Executives of the company rang the opening bell at the NYSE today, as shown in the pictures and video below.
The registration statement was filed at the SEC on July 21, 2021. The offering is expected to close on July 26, 2021.
The stock closed at $20.69, after a gain of 4.90% on its first day of trading. The market capitalization was 2.95 billion.
It was a successful debut for Thoma Bravo, the investment equity company that took Instructure private last year in a deal valued at $2 billion. The Salt Lake City, Utah – based start-up first went public four years ago.
The finance company will own 88% of the stock after the offering, or 87% if the overallotment option is exercised in full. Instructure granted the underwriters a 30-day option to purchase up to an additional 1.8 million shares at the IPO price.
During the first three months of 2021, Instructure had revenue of $94.0 million and a net loss of $33.1 million, according to the filing.
Big moment for Instructure today. We are now publicly-traded on the @NYSE.

We're so excited about this next step and what this means for our customers, employees, and entire education family. pic.twitter.com/1JgTF5jCle

— Instructure (@Instructure) July 22, 2021
Today @Instructure rings the Opening Bell to celebrate its IPO 🔔 We're excited to welcome them into our #NYSECommunity 🏛 $INST pic.twitter.com/uftezbvn34

— NYSE 🏛 (@NYSE) July 22, 2021
• IBL News, July 14, 2021: Instructure / Canvas LMS Details Its IPO: A Valuation of $2.9 Billion Expected