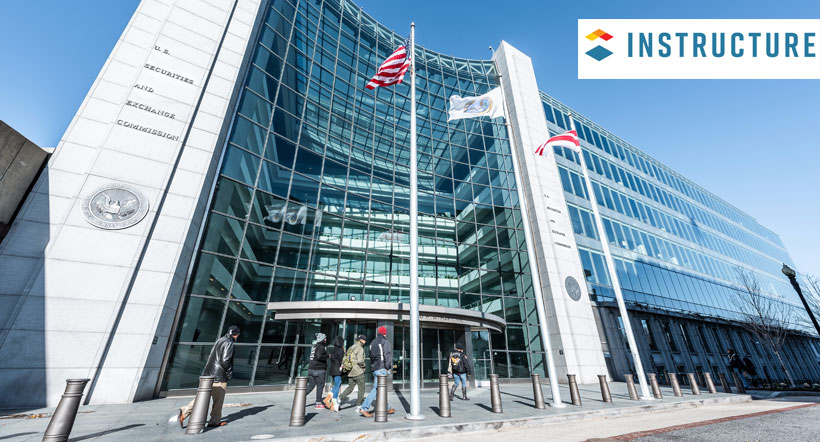 IBL News | New York
Five top executives at Instructure Inc (NYSE: INST), a top learning company about to be acquired by equity firm Thoma Bravo, may receive a "golden parachute compensation" of over $25 million, following a "change in control" of the company, according to a statement filed to the SEC on January the 2nd.
The CEO Daniel T. Goldsmith (Dan Goldsmith) would obtain over $22 million ($473K in cash, $22M in equity and $20K in perquisites/benefits), assuming the Instructure's transaction occurs on February 13, 2020.
The second-largest compensation would be for the CFO Steven B. Kaminsky, a total of $9.4 million. Matthew A. Kaminer, Senior Vice President and General Counsel, would reap $8.6 million; Marta DeBellis, Chief Marketing Officer, $3.3 million; and Frank Maylett, EVP Sales at Instructure, $1.08.
These payments are automatically activated upon "Termination At" or following "Change in Control", as those executives are entitled to additional compensation or benefits. The amounts, shown in the table below, do not include the payments or benefits that would have been earned with equity awards –including cast bonuses for 2018– prior to the $2 billion all-cash sale to Thoma Bravo –which all the Board urged shareholders on December to approve.
The company's filings to the SEC assumes that the merger with Thoma Bravo will occur on February 13, 2020.

Another Investor Opposes to Thoma Bravo's Takeover
On the other hand, a fourth shareholder of Instructure, Lateef Investment Management LP, came out against the takeover by Thoma Bravo, arguing the education software company is selling for cheap after running a flawed sale process, Bloomberg reported.
Lateef Investment Management LP, which owns roughly 1.5% of Instructure, highlighted that the company is worth at least $60 per share.
Quoc Tran, Chief Investment Officer at Lateef Investment Management LP, stated, "Goldsmith staying on as CEO seems like a conflict of interest where he's putting his own interests ahead of shareholders." "We don't think Dan has done a good job with Bridge and this deal rewards him rather than hold him accountable."
Responding to criticism from other three top shareholders – Praesidium Investment Management (7.5%), Rivulet Capital (5%) and Obendorf Enterprises (6%) –, Instructure said two weeks ago that equity firm Thoma Bravo offered the highest price, $2 billion on a $47.60 per share deal.
The firm added that its review process lasted 11 months with 19 parties signing non-disclosure agreements.
The deal has a so-called go-shop period in which it can solicit other offers until tomorrow Wednesday.
Related story:
Bloomberg, Dec 31: Instructure Set Up $25 Million Stock Payoff for Bosses Amid Sale