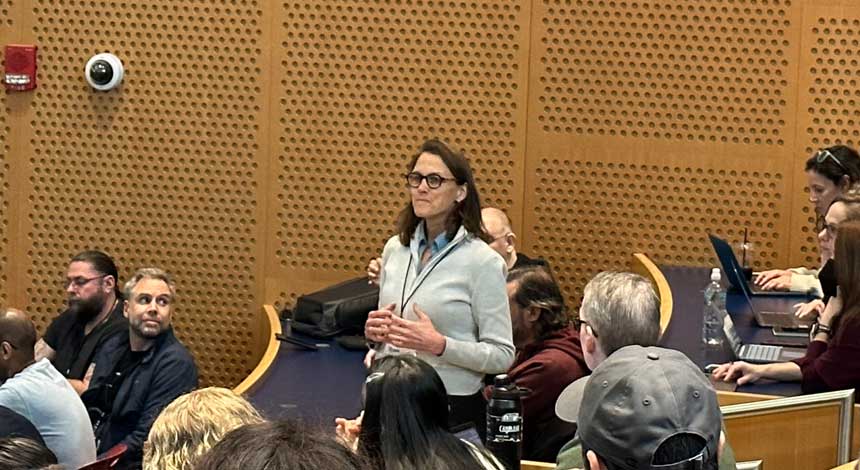 IBL News | Cambridge, Massachusetts
The MIT and Harvard non-profit organization — Center for Reimagining Learning (or "tCRIL") — that handles the Open edX platform named its first CEO: Stephanie Khurana [in the picture]. She assumed her role on April 3.
In parallel, this organization which started by the two universities with the $800 million of proceed from the sale of edX Inc to 2U, changed its name into Axim Collaborative.
Axim Collaborative's mission is to make learning more accessible, more relevant, and more effective.
The name Axim (a hybrid of the two ideas) was selected to underscore the centrality of access and impact,
Khurana brings two decades of experience in social venture philanthropy and in technology innovation space. Most recently she served as managing partner and chief operating officer of Draper Richards Kaplan Foundation, a global venture philanthropy that identifies and supports innovative social ventures tackling complex societal problems.
Earlier in her career, Khurana was on the founding teams of two technology start-ups: Cambridge Technology Partners (CTP) and Surebridge, both of which went on to be sold.
Khurana also served in numerous roles at Harvard University, working on initiatives to support academic progress and build communities of belonging with undergraduates.
Stephanie Khurana introduced herself to the Open edX community members in a town hall style which took place last Friday, March 31st, at the end of the annual developers conference.
The gathering, celebrated at MIT's Stata Center in Cambridge, Massachusetts, last week, attracted over 250 attendants, a similar number to past editions.
One of the stories of the event was the acquisition of French-based company Overhang.IO, creator of the distribution tool Tutor. Pakistani American Edly purchased it for an undisclosed amount.
Régis Behmo, the Founder and only developer in of Overhang, assumed the role of VP of Engineering at Edly.
"Edly understands how contributing to open source creates value both for the company and for the whole edTech community. This partnership will help us drive this movement forward to serve learners and educators worldwide," Behmo said.
"Régis's experience and leadership will be invaluable as we increase our impact on educational technology. In coming weeks and months, we'll be making further announcements around our expanded roadmap for open source contributions to Open edX," said Yasser Bashir, the founder and CEO of Arbisoft LLC, that operates with Edly its edTech brand.
.