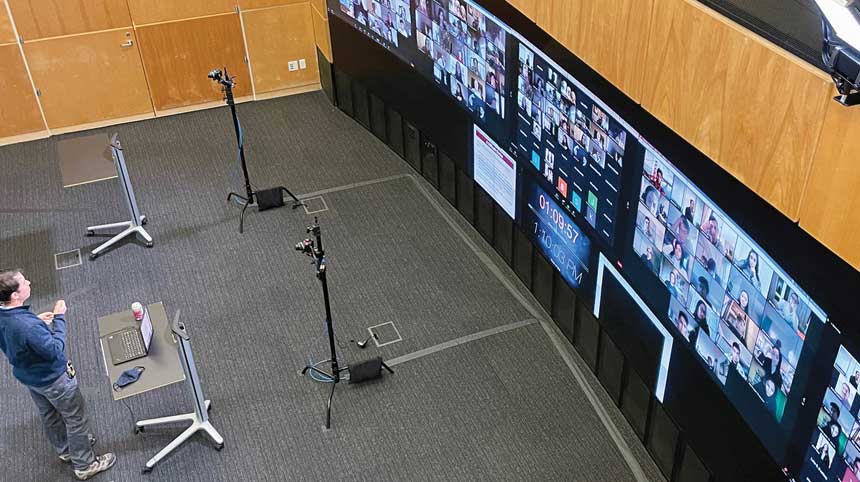 IBL News | New York
Stanford University set a 32-foot by 8-foot video wall with 250 students at once on Zoom, as shown in the picture below.
Once a week, Stanford's students in Ethics, Public Policy, and Technological Change participate this way in conversations with instructors.
The panel group is the result of three simultaneous Zoom sessions of up to 100 students.
Students can see multiple presenters.
Teacher Assistants post real-time questions from students to the video wall, and facilitate breakout rooms and polls.
They also toggle video feeds from five different angles, so that instructors can move around.
Director of Classroom Innovation at Stanford University, Bob Smith, set the system in Wallenberg Hall, according to Stanford Magazine.
edSurge explained that "no matter how big your screen, Zoom can only display up to 49 people in each session. So the class was divided into three different Zoom sessions of up to 100 students each. Then a teaching assistant helped feed all three of those sessions into a fourth room, making it possible to control which speaker is featured on everyone's feed but that can draw on users in any of the Zoom sessions."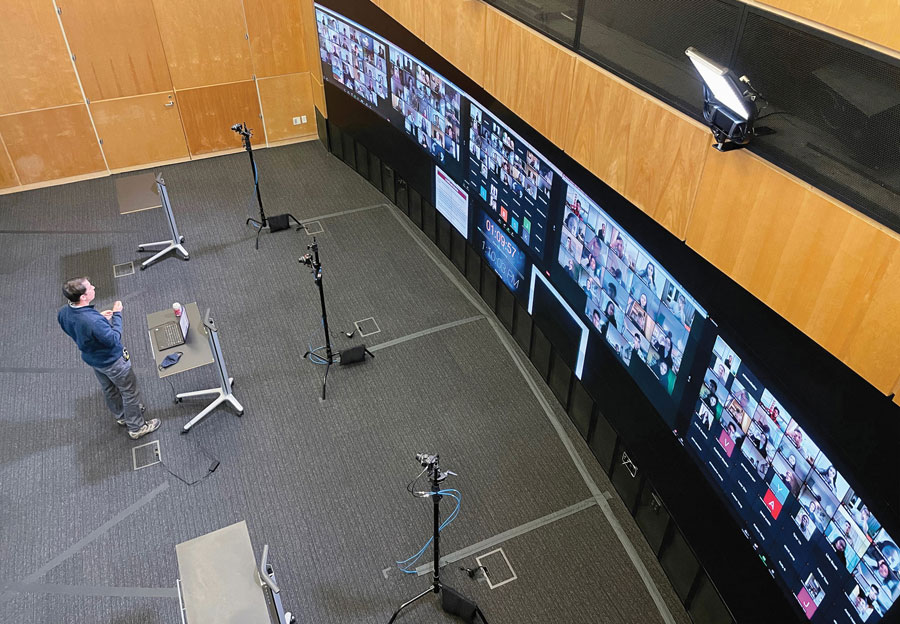 Before Stanford University, the pandemic inspired institutions such as Harvard University to use a similar Zoom approach, as IBL News reported last December.
David J. Malan, professor of Computer Science at Harvard University and leading instructor at the Cs50 MOOC, shared a multiple gallery view setup by using Zoom Rooms for enhanced remote and blended learning sessions.
Mr. Malan also showed how Harvard recreated the look, feel, and interactivity for 150 students at a time in a theater on campus. The institution used a setup with a series of TVs and cameras running two interconnected Zoom Rooms [picture below].