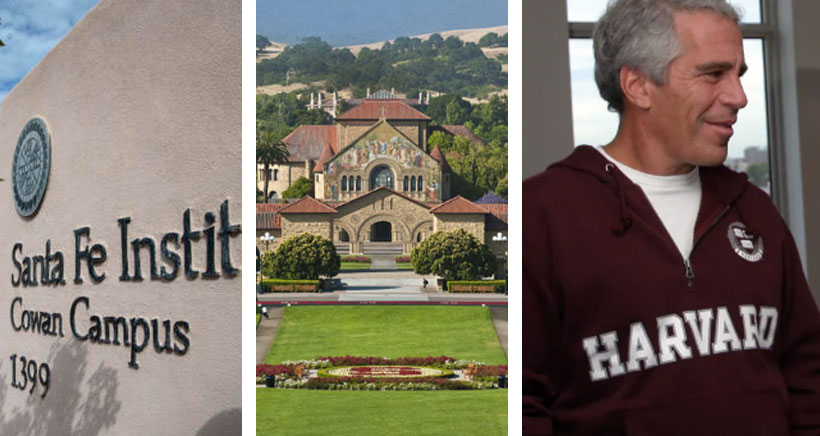 IBL News | New York
Stanford University and The Santa Fe Institute added their names to the list of universities that accepted donations from sex trafficker Jeffrey Epstein, who last month committed suicide in a New York jail cell.
In addition, more ties were reported about Epstein's association with Harvard-related institutions, after he was forbidden from donation to the university.
Stanford acknowledged that it received $50,000 from Epstein's COUQ Foundation Inc. in 2004. This happened two years before the disgraced financier was convicted. The donation went to the institutions' physics department.
The Santa Fe Institute, a renowned science research and education center New Mexico, was the beneficiary of $275,000, including a $25,000 donation in 2010, Albuquerque Journal reported.
Harvard University's association with Jeffrey Epstein did not end in 2008, as the institution's current president, Lawrence Bacow, mentioned last week.

"Epstein continued to come and go freely on campus," Axios.com wrote yesterday. "In 2012, for instance, he attended a meeting in Martin Nowak's office with financier Leon Black and other men including Henry Rosovsky, the dean of Harvard's faculty of arts and sciences. He even put photos of the meeting on his website."As previously reported by WBUR, Epstein gave $50,000 in 2016 to the Hasty Pudding Institute of 1770, a non-profit that supports 3 Harvard clubs. He also gave $110,000 to Verse Video Education, a nonprofit run by Elisa New, who is married to former Harvard president Lawrence Summers.
Regarding the MIT Media Lab's scandal, The Boston Globe informed this weekend that the institution asked some staffer to send thank you notes and dine with Epstein after he made donations to the institute's Media Lab, according to architect and designer Neri Oxman.
Oxman detailed how she was asked to first present her research to Epstein in 2015, several years after he had already been convicted and served jail time in Florida for prostitution-related offenses. Former Media Lab director Joi Ito asked Oxman and others that the donations would be kept confidential because of Epstein's criminal record, but yet they were asked to dine with Epstein and send him thank you notes. Oxman says she declined to dine with Epstein but did comply to Ito's request to have her lab make him a thank-you gift: a grapefruit-sized, 3-D printed marble with a base that lit up.
Given this situation, The Boston Globe released a story wondering "Can the MIT Media Lab Save Itself?"
"The most important thing for the lab to survive immediately is to help current sponsors feel that funding the lab is still a good decision," writes Eric Scheirer, who earned two degrees at the Massachusetts Institute of Technology in the 1990s, and later was a corporate sponsor of the lab while employed at Framingham-based Bose Corp. "I must imagine that many of the companies are asking 'What kind of place are we putting our money into?' And that, in turn, feels precarious to me — I can imagine well a scenario in which lab funding basically collapses in a way that is not recoverable."