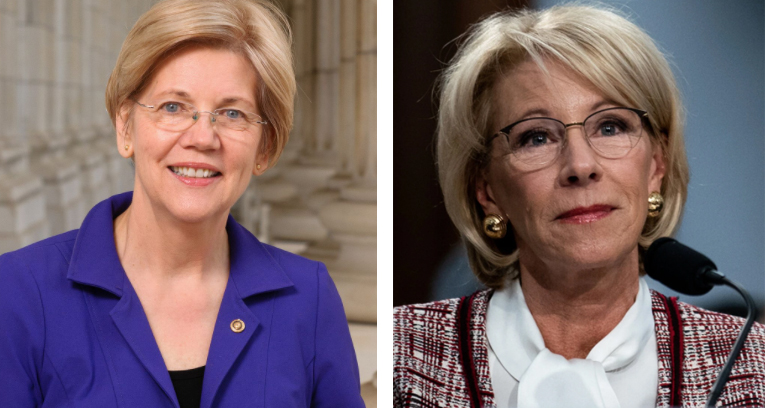 IBL News | New York
Education Secretary Betsy DeVos—who officially stepped down this Friday in the aftermath of the assault on the US Capitol—engaged in a dispute via Twitter with Senator Elizabeth Warren, Democrat of Massachusetts [left, in the picture].
Elizabeth Warren wrote this Thursday: "Betsy DeVos has never done her job to help America's students". "It doesn't surprise me one bit that she'd rather quit than do her job to help invoke the 25th Amendment. Good riddance, Betsy. You were the worst Secretary of Education ever."
You know not of what you speak, @SenWarren https://t.co/hn8B4C6ZNx

— Secretary Betsy DeVos (@BetsyDeVosED) January 8, 2021
Betsy DeVos answered: "You know not of what you speak, @SenWarren."
She also pushed back against other voices who claimed she resigned to dodge a decision on President Trump's removal under the 25th amendment.
However, The New York Times reported that Ms. DeVos submitted her resignation after it became clear that Vice President Mike Pence would not invoke the 25th Amendment.
In the last four years, DeVos had been extensively criticized by Democrats and Higher Ed leaders for supporting President Trump.