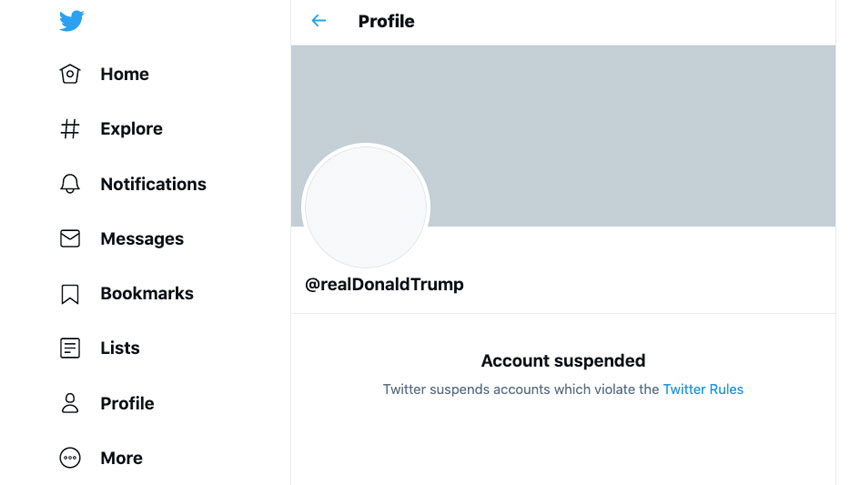 IBL News | New York
Twitter permanently suspended yesterday President Trump's @realDonaldTrump account "due to the risk of further incitement for violence."
In a blog-post explaining its decision, Twitter argued that the two latest Donald Trump's tweets "were likely to inspire others to replicate the violent acts that took place on January 6, 2021, and that there are multiple indicators that they are being received and understood as an encouragement to do so."
The two mentioned tweets were posted by the President on Friday, January 8th:
"The 75,000,000 great American Patriots who voted for me, AMERICA FIRST, and MAKE AMERICA GREAT AGAIN, will have a GIANT VOICE long into the future. They will not be disrespected or treated unfairly in any way, shape, or form!!!"
Shortly thereafter, the President tweeted:
"To all of those who have asked, I will not be going to the Inauguration on January 20th."

San Francisco, California—based Twitter acted after Facebook, Snapchat, Twitch and other platforms placed limits on the President. Facebook warred Trump from using its service for the remainder of his term.
Cutting off  Trump from his favorite method of communicating directly with the public, Twitter caused a big disruption in the direct access of the President to the public and the press.
After close review of recent Tweets from the @realDonaldTrump account and the context around them we have permanently suspended the account due to the risk of further incitement of violence.https://t.co/CBpE1I6j8Y

— Twitter Safety (@TwitterSafety) January 8, 2021
Donald Trump—with 79.5 million followers—regularly tweeted dozens of times a day. He was the eighth-most followed account on the platform. Former President Barack Obama has the most followers at over 127 million, followed by Justin Bieber, Katy Perry, Rihanna, Cristiano Ronaldo, Taylor Swift, and Lady Gaga.
De-platforming Trump came as a surprise. When mentions of the possibility that social media companies would be banning him, he repeatedly replied, "They'll never ban me."
Donald Trump Jr. was the only one on the President's entourage responding. He tweeted: "We are living Orwell's 1984. Free-speech no longer exists in America. It died with big tech and what's left is only there for a chosen few."
We are living Orwell's 1984. Free-speech no longer exists in America. It died with big tech and what's left is only there for a chosen few.

This is absolute insanity! https://t.co/s2z8ymFsLX

— Donald Trump Jr. (@DonaldJTrumpJr) January 9, 2021
• Axios: All the platforms that have banned or restricted Trump so far