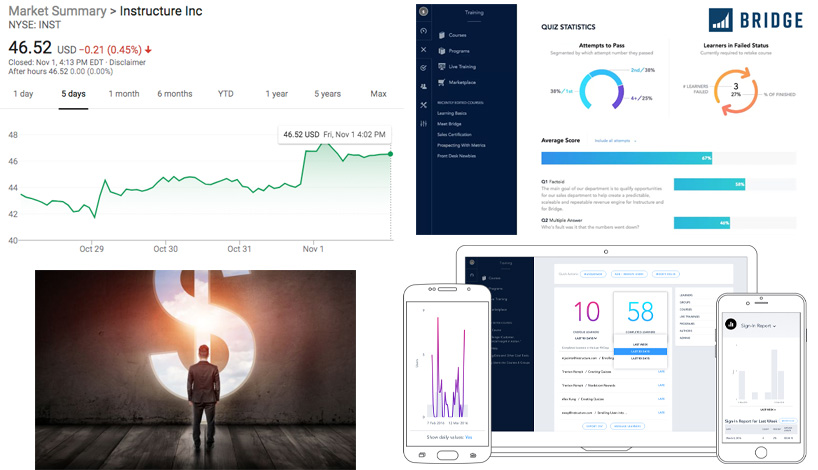 Mikel Amigot | IBL News
What's next for Instructure (INST)?
That's the question that comes to investors' minds, especially after the third quarter performance report, which represented an earnings surprise of 42.11%.
Since the beginning of the year, Instructure shares have added about 15.8% versus the S&P 500's gain of 20.6%, while the estimated revision trend for the company is mixed.
In this context, New York-based Sachem Head, which has been buying Instructure's shares over time, announced yesterday that it wants Instructure to pursue a full sale process, Reuters disclosed. Now, the notorious hedge fund plans to push the Salt Lake City-based company in this direction.
The activist fund, that invests $3.2 billion on behalf of clients, recently called on Whitbread PLC to sell its Costa Coffee business before it was spun off to Coca-Cola Co. It also pushed Eagle Materials Inc to split its core businesses, before the company's board agreed to spin off its heavy materials and light materials businesses into two publicly traded entities.
On the news of Sachem Head's stake, Instructure's stock prices jumped as much as 6% this week, ending at $46.52.
With a market capitalization of $1.8 billion, Instructure's Canvas is the market leader in the LMS segment –and according to its own data continues to add customers.
However, its employee development platform Bridge is not working that well, failing to generate considerable market share, analysts think –and that'd be the reason why Instructure has underperformed the market so far this year.
In this regard, Instructure's CEO Dan Goldsmith didn't reject the idea of a sale or spinoff of Bridge, which launched in 2015.  "Nothing is off the table," he told investors on the mentioned Q3 2019 earnings call on October 28. "But the focus for us is really making Bridge successful, making Bridge financially beneficial and accretive and healthy and then continuing to grow over time."
Dan Goldsmith promised to provide more details at an analyst day on Dec. 3.