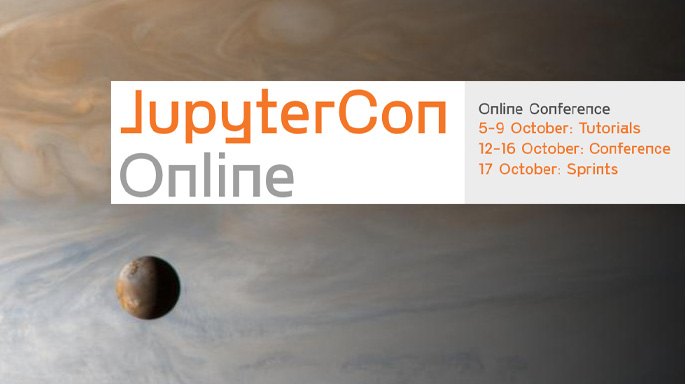 IBL News | New York
The annual reunion of Jupyter developers and practitioners–scheduled, prior to the pandemic, to happen in-person this summer in Germany–will be finally held online on October 5-17, 2020, featuring an innovative format in which online learning will converge with credentialing.
"We developed a vision in which a "conference" is now a learning platform, unconstrained by synchronous schedules or geographical location, coalescing a multitude of mini-events and rad new content, learning experiences, and online social interactions," explained Dr. Lorena A. Barba, General Chair at the conference and Professor of Engineering at GW.
According to the announcement issued yesterday by the organizers, the JupyterCon 2020 event will comprise of:
An online learning platform to create courses and organize content, providing user profiles to track learning and earn micro-credentials.
Integrations with third-party tools for web conferencing and text-based threaded discussion.
Online labs with access to JupyterHub/Binder attached to the content.
Beyond just "talks," content organized as mini-courses with permanent resources attached, and ensuing conversation.

"This is our vision for the conference of the future," stated Professor Lorena A. Barba. "We conceived a long-term strategy with the key vision of magnifying career-advancement opportunities for all members of our community, and assembling a permanent library of learning resources."
The conference program will mix on-demand with live content, resulting as follows:
Tutorials: consist of prepared written materials and exercises in Jupyter notebooks, pre-recorded video by the instructor, live office hours with participants each day, and text-based discussion. The conference team will create a MOOC-style mini-course from the author-prepared materials. Participants completing the tutorials will receive certificates.
Keynotes: streamed live to YouTube each day, with private backchannel discussions in the JupyterCon Mattermost server, public backchannel on Twitter, and also live, moderated Q&A after the talk.
Regular presentations: pre-recorded, with timed-release on YouTube Premiere, backchannel discussions in the private text-based forum, and in public on YouTube and organically on Twitter.
Panels of Speakers: since the regular presentations are pre-recorded, these are an opportunity for the audience to interact live with the speakers. We'll cluster speakers by topic, for a live broadcast discussion with a moderator, after their pre-recorded presentations aired. Audience can submit questions ahead of time for moderators to choose, and can also ask live.
Posters: these are digital artifacts that can be static or interactive (e.g., Voilà dashboards), plus a pre-recorded 2-min pitch on video.
Live lightning talks: 5-min moderated live presentations, with a text-based backchannel discussion, but no Q&A with speakers.
Birds-of-a-feather: open-forum video chats organized organically among attendees.
Interviews with influencers in the community as an additional draw of activity and discussion. Other live panels not connected to pre-recorded talks (e.g., Q&A with JupyterHub developers).
The JupyterCon 2020 conference will be part of a larger educational initiative named NumFOCUS Academy, which will include a scalable ecosystem consisting of an online learning platform, a JupyterHub server, front-end websites for JupyterCon, PyData and NumFOCUS Academy, and services like e-commerce, single-sign-on, and analytics.
The Sloan Foundation approved a grant to back the project in May, while OVH decided to participate as a Platinum sponsor. IBL Education will deploy and support the learning ecosystem, with Open edX as the centerpiece technology.