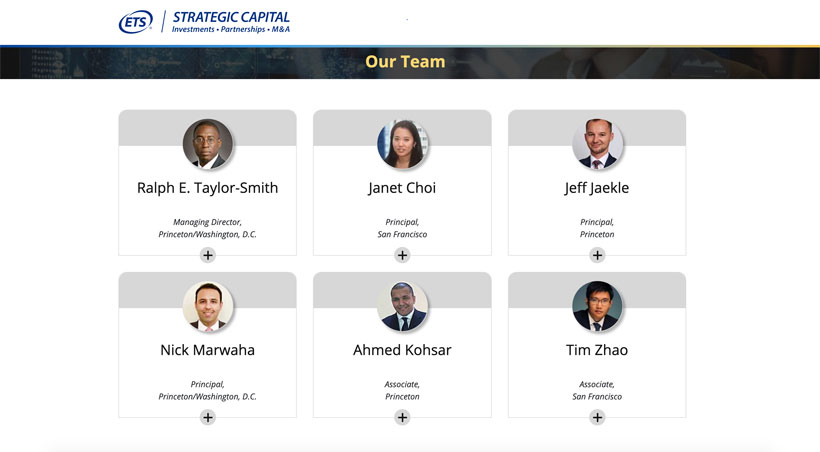 IBL News | New York
ETS–Princeton, New Jersey-based leading assessment nonprofit organization founded in 1947 and making $2.1 billion in revenue–announced this week the creation of ETS Strategic Capital.
This unit will invest in educational businesses that help to expand ETS' offering for K-12, higher education, and corporation. Its goal is to establish a global portfolio of emerging education companies.
"We bring value-add capabilities in assessments, research and development, global distribution, and innovative technologies to our portfolio and partner companies," said Ralph Taylor-Smith, the Managing Director of ETS Strategic Capital.
"We've reached a pivotal point in the ongoing evolution of education — there is a fundamental change in how educational services are delivered, how tools and assessments are structured, and how learners, schools, and companies are engaged and connected," he added.
Currently, ETS has a portfolio of five companies:
ApplyBoard–A Canadian platform for international student recruitment, with $71 million funding from ETS.
Pipplet–A Paris-based start-up specialized in language assessment for businesses.
Capti (by Charmtech Labs LLC)–Buffalo, New York-based startup that provides personalized literacy and learning support to K–12 students.
EdAgree–A newly formed spin-out company from ETS that will match international students with universities and support those students throughout their education journey.
Gradschoolmatch.com–Atlanta-based platform that helps prospective graduate students match with potential graduate academic programs. ETS plans to incorporate it into its offerings to the graduate school market.
ETS Strategic Capital explained that mostly will target private equity investments that are typically in Series B, C, or later, where companies already have a proven product. Its idea is to invest up to $15 million. For acquisitions, it's targeting companies making at least $20 million in revenue.