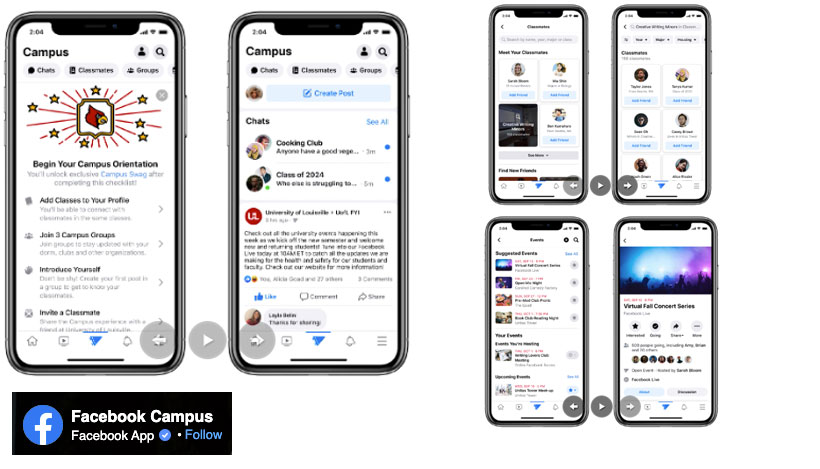 IBL News | New York
Facebook–which started as a college-only network–returned to its roots by launching last week a platform exclusively for students, Facebook Campus.
The social media giant described the platform in a blog post as "a college-only space designed to help students connect with fellow classmates over shared interests," explaining that due to the pandemic outbreak and the shift to partial or full-time remote learning "it's more important than ever to find a way to stay connected to college life."
Facebook Campus is a dedicated section of the Facebook app designed for students, with a Campus profile that's different from their main Facebook profile. To create a Campus profile, students need their college email and graduation year.
Once a Campus profile is set up, students can discover Groups and Events unique to their school, and connect with classmates who share similar interests. When content is shared on Campus, only people within Campus will see it.
The platform includes campus-only news feeds, classmates directories, and real-time chat rooms.
The social media giant started to roll out Facebook Campus to 30 colleges in the US. Harvard University, Mark Zuckerberg's own alma mater, was not on the list.
These are the participating schools: Benedict College; Brown University; California Institute of Technology; College of William & Mary; Duke University; Florida International University; Georgia Southern University; Georgia State University; Johns Hopkins University; Lane College; Lincoln University (Pennsylvania); Middlebury College; New Jersey Institute of Technology; Northwestern University; Rice University; Sarah Lawrence College; Scripps College; Smith College; Spelman College; Stephen F Austin State University; Tufts University; University at Albany – State University of New York; University of Hartford; University of Louisville; University of Pennsylvania; University of Wisconsin-Eau Claire; Vassar College; Virginia Tech; Wellesley College; and Wesleyan University. Students at these colleges can find Campus within the Facebook app.
Users' initial reviews of the app have been very negative.