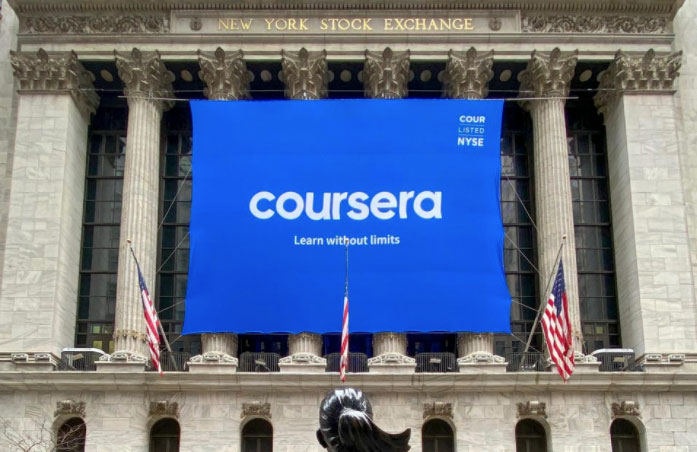 IBL News | New York
Coursera (COUR) increased its net loss to $145.2 million (or 35% of revenue) in 2021, compared to $68.8 million (or 22.8% of revenue) in 2020. Total revenue was $415.3 million in 2021, up 41% from $293.5 million in the prior year. Enterprise revenue (Coursera for Business) grew 70% year-over-year to $120 million.
In the fourth quarter of 2021, net loss was $47.7 million or 41.5% of revenue, compared to $26.7 million or 32.1% of revenue a year ago. In the same period, total revenue was $115.0 million, up 38% from $83.3 million a year ago.
Coursera's financial results, announced yesterday, were negatively received by the stock market, which pushed the share price down 6.46%, until $19.70. The results did not meet Wall Street expectations, said The Associated Press.
Since it went public in April 2021, Coursera has lost over 56% of its value. Today, market capitalization is half of its IPO, $2.77 billion. In its best moment, it reached a whopping valuation of $5.8 billion.
Ken Hahn, Coursera's CFO, said that "our outlook for 2022 anticipates revenue growth of 30% year-over-year, reflecting the long-term demand we continue to see for online learning."  The revenue outlook for the full year of 2022 is in the range of $536 to $544, with an EBITDA negative in the range of $45.5 to $51.5 million.
• Per segments, consumer revenue for the fourth quarter was $65.8 million, up 24% from a year ago on strong demand for our portfolio of entry-level Professional Certificates and continued adoption of Coursera Plus.
• Enterprise revenue for the fourth quarter was $35.9 million, up 72% from a year ago on robust growth across the business, campus, and government customers. The total number of Paid Enterprise Customers increased to 803, up 107% from a year ago.
• Degrees revenue for the fourth quarter was $13.3 million, up 43% from a year ago on the scaling of student cohorts.
• News about Coursera at IBL News