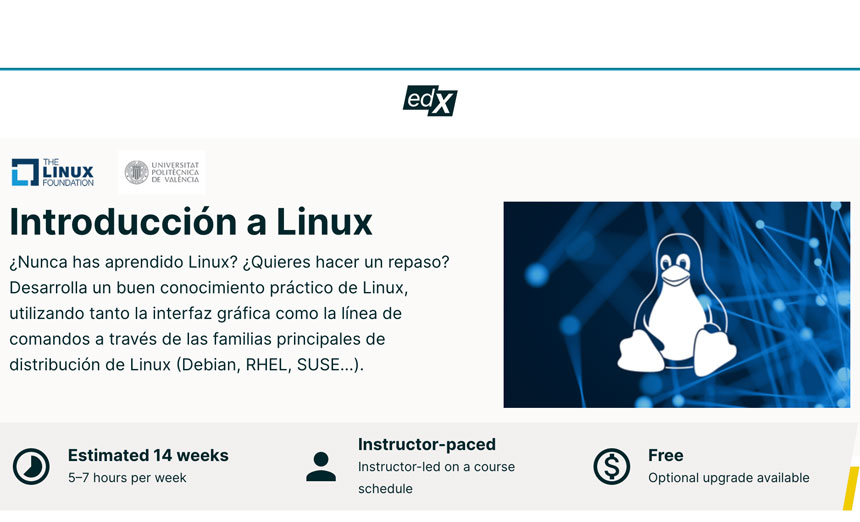 IBL News | New York
The "Introduction to Linux" course on edX, which got over a million individuals enrolled, now has a version in Spanish.
The Linux Foundation announced its launch yesterday, "Introducción a Linux (LF-UPV-101x." The Universitat Politècnica de València (UPV), a leading technical university in Spain, translated the course.
The class, a 14 weeks program, is available for enrollment. To get a certificate of completion, learners will need to pay $49.
Introduction to Linux is designed for experienced computer users who have limited or no previous exposure to Linux. It teaches tools and techniques commonly used by Linux system administrators and end-users to conduct their day-to-day work in this environment.
"Linux is under the hood of most internet servers, multimedia gadgets, and internet-connected devices. We could say that Linux runs the world in which we live, so we at Universitat Politècnica de València are very excited about the opportunity to give access to Linux knowledge to the Spanish-speaking world," said Jose Pedro García Sabater, Vice-Rector for Planning, Academic Offering and Digital Transformation of UPV.
"Education is a great tool to increase the quality of life and generate professional growth, and it is great to see edX partners collaborate to offer content in different languages," said Anant Agarwal, edX Founder and Chief Open Education Officer at 2U, Inc.