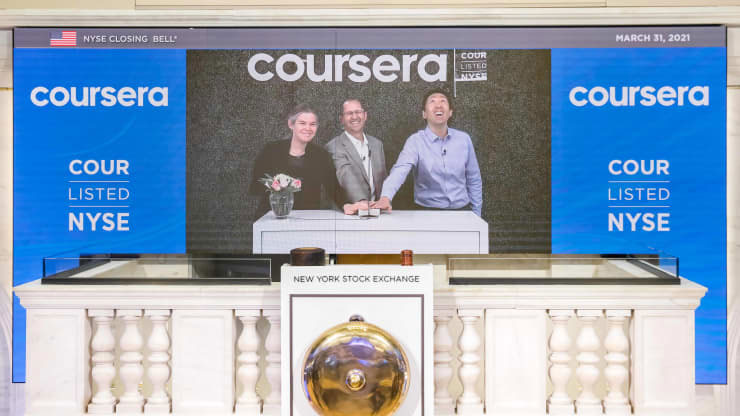 IBL News | New York
Coursera stock rose 36% Wednesday, closing at $45 a share, on its first day of trading on the NYSE (New York Stock Exchange).
This surge gave the online learning platform a whopping market valuation of $5.86 billion, despite the company is still unprofitable.
On Tuesday, Coursera priced its 15.73 million shares of the IPO at $33 a share, at the high end of Coursera's expected range of $30 to $33.
In its offering, the company raised nearly $520 million at an implied $4.3 billion valuation.
Prior to its debut, Coursera was last valued in the private market at $3.6 billion.
As shown in the picture above, Coursera's founders and CEO rang virtually the opening bell of the New York Stock Exchange today, as the whole event was online, due to the pandemic.
Jeff Maggioncalda, CEO at Coursera said to EdSurge that the new influx of money would be used to build more AI-based teaching.
"We are always building more AI into the teaching experience and the learning experience," he said. "On the learning side, that means more personalized learning. On the teaching side, [it means] improved student-success dashboards that predict every student's grade every day and predict the chance that students stop [out of] the degree program."
The stock trades under the ticker symbol "COUR."
[Written by Mikel Amigot]
As Coursera goes public today, we want to mark this next chapter with a heartfelt thank you. What started as an idea in 2012 has now evolved into a global community of 77 million learners. [1/5]

— Coursera (@coursera) March 31, 2021
• Coursera CEO on IPO: this was a 'good time' for public debut
• News about Coursera at IBL News