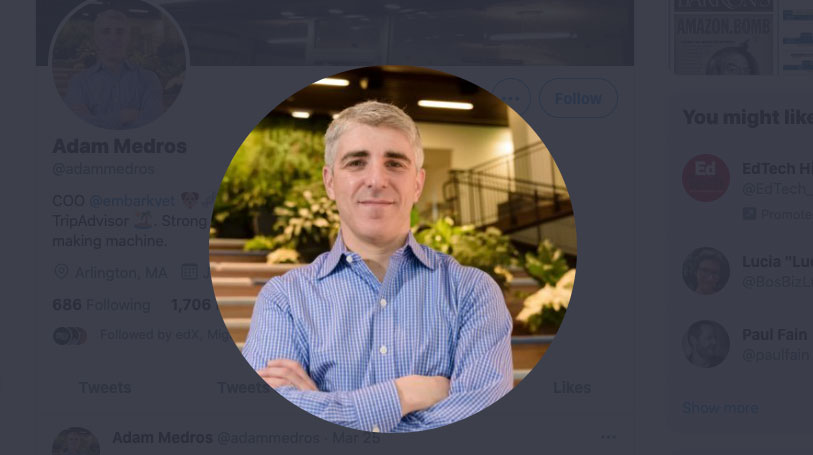 IBL News | New York
Anant Agarwal, Founder and CEO at edX Inc., will consolidate his leadership at the educational non-profit as a unique Chief Executive Officer.
The co-CEO and President, Adam Medros announced his departure through his Twitter account last March 15th. In parallel, Medros reported about his appointment as Chief Operating Officer (CCO) at Embark Veterinary, "a leader in dog genetics."
The reason for the departure has not been explained and edX hasn't made an official announcement, although the leadership page at edX.org reflects the change now.
Prior to edX, Medros spent 13 years at TripAdvisor as Senior Vice President (SVP) of global product. With no previous experience in higher education, he joined edX in October 2017, and two years later, he was promoted to co-CEO, joining Anant Agarwal in this position.
edX's move was intended to adopt a more business and less academic-focused structure with two running CEOs, as it was reported.
"Adam Medros will partner with Agarwal to drive the company's continued growth and innovation, in service of its non-profit mission to increase access to high-quality education for everyone, everywhere," edX said then.
Anant Agarwal stated in October 2019: "Adam's dedication to the edX mission and his partnership have been invaluable to me in my role as Founder and CEO of edX and I look forward to further deepening our collaboration."
edX's moment is indeed now and I'm confident that the leadership team and the entire company are in a great position to continue to have a huge impact on the world.

— Adam Medros (@adammedros) March 15, 2021