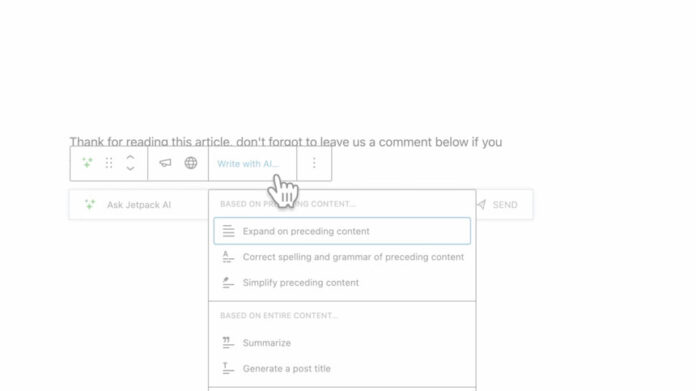 IBL News | New York
Automattic, the company behind WordPress.com, announced the availability of an AI tool called Jetpack AI Assistant for the customers of its hosted service.
It integrates with the WordPress editor and is also available through the Jetpack plugin, allowing users to create, by adjusting the tone, unlimited posts, pages, structured lists and tables within a blog post, headlines, and translations in twelve languages.
The assistant also offers better spelling and grammar correction features than WordPress's built-in tools.
Like ChatGPT, Jetpack AI Assistant utilizes a conversational system so content creators can chat with it in natural language.
When writing a post or a page, users can add an AI Assistant block to their content. They type in a prompt, and the AI Assistant starts generating text.
Automattic said that its AI Assistant, "still in the experimental phase, is free to use for all WordPress.com customers for a limited time."

It added:
"Activate the block with the Inserter or the "/" command shortcut. (If you didn't know, here's a fun tip: Hit the "/" button while in the post or page editor and type the name of the block you're looking for. In this case, it would be "AI.")."
According to TechCrunch, Jetpack AI Assistant block will let users send 20 requests as a free trial. After that, they have to pay $10 per month to access the feature.

In the last months, Google Docs, Microsoft Word, Notion, and Grammarly have introduced AI-powered writing tools into their apps.
.