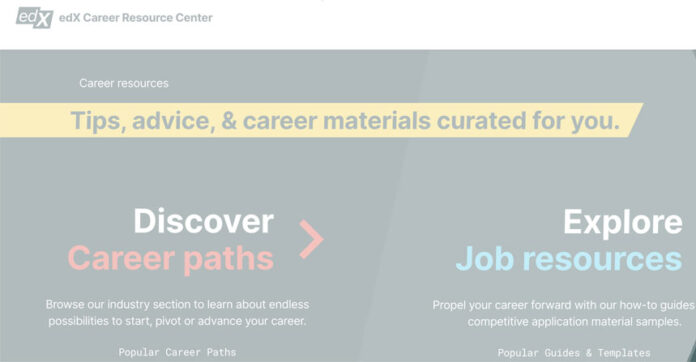 IBL News | New York
2U's edX announced this month the launch of a free online career resource center to help learners find professional opportunities, career tips, tools, and advice from industry experts and alumni.
This Career Resource Center features career-specific skill identification, personalized course recommendations, resume-building tools, job search assistance, and access to industry events.
The hub offers insightful articles by career and industry experts to help learners master the complexities of job searching.
"Our aim is not just to help people thrive in their present roles but also to help them build the confidence to navigate new sectors and technologies and unlock exciting professional opportunities," said Anant Agarwal, Founder of edX and Chief Platform Officer at 2U.
In addition, this month, edX has announced a groundbreaking, intensive 10-week micro boot-camp program in Machine Learning and Artificial Intelligence MicroBootCamp, starting in July 2023.
This program is developed in partnership with twelve leading universities: Columbia University's Fu Foundation School of Engineering and Applied Science, Southern Methodist University, The Ohio State University College of Engineering, University of North Carolina at Charlotte, University of Denver, University of Kansas Jayhawk Global, University of Central Florida, University of New Hampshire Professional Development & Training, University of Richmond).
"In addition to the Machine Learning and AI MicroBootCamp program, six new ChatGPT open courses are now available on edX.org, giving millions of people worldwide the opportunity to learn about utilizing one of the world's fastest-growing applications. Courses, which are free to audit, include Prompt Engineering Advanced ChatGPT and ChatGPT for education, business, healthcare, and technology, coding, and data," said Anant Agarwal.
[Disclosure: These ChatGPT courses have been developed in partnership with IBL Education, the parent company of IBL News]
It's launch day 🚀 We're excited to announce that we've partnered with 12 leading universities to launch the Machine Learning and AI MicroBootCamp™ program. (Thread 👇) pic.twitter.com/05ytHMpXw4

— edX (@edXOnline) June 15, 2023