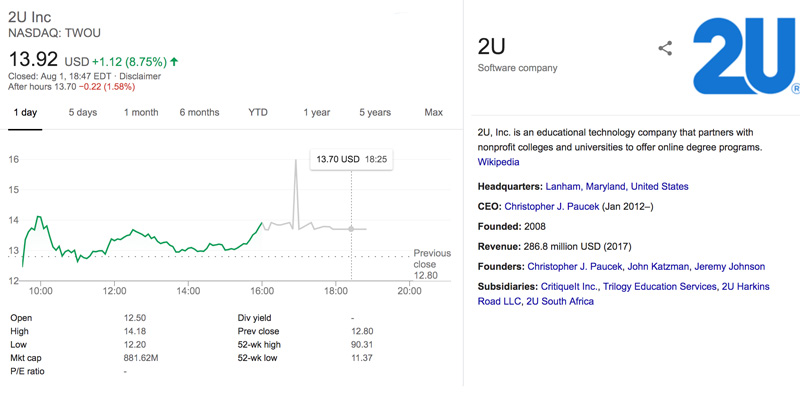 Uncertainty Over 2U's Business Model After Two-Thirds of Its Value Disappears – Shares Closed at $13.92
Mikel Amigot | IBL News
Uncertainty over 2U's business model didn't disappear on its third day of trading after the collapse of the stock price on Tuesday and Wednesday when the company lost two-thirds of its value. And a look at the 2U (NASDAQ: TWOU) stock shows that over the past year it has lost -83.03% of its value.
Shares of 2U Inc. closed yesterday Thursday 1 at $13.92 after an increase of 8.75% or $1.12.
Investors were still wary after the educational organization lowered growth expectations yet again during an earnings call on Tuesday.
The company posted a 43-cent loss per share for its latest quarter, whereas analysts expected a loss of 35 cents per share.
This was the third time that 2U reset its growth expectations. CEO Chip Paucek and CFO Cathy Graham's commentaries prompted a rush of analyst downgrades alongside a massive sell-off.
Thursday's session consolidated the idea that 2U's business model is broken and that the company needs to adjust to a more competitive landscape.
Last quarter's results showed that problems that dogged the company core business have not only persisted but worsened, according to a majority of analysts.
What is unclear now is how a stock that seems "uninvestable", according to Oppenheimer's Brian Schwartz, will affect the day-to-day operations and level of service offered to colleges and universities, including enrollments.
2U's high cash-burn rates along with an unclear path to profitability (with 77% losses recorded over the past six months) send a grim message to the higher education industry.
For-profit educational institutions aren't generally well regarded. It is worse if they are Wall Street players. And it is catastrophic when there is the suspicion that debt-burdened students not only feed Wall Street profits but even risk the education they pay for.
2U's plunge might be the beginning of the end of the commercial OPM market, and its ripple effect might impact more vendors and players.
• Yahoo Finance: 2U Inc (TWOU) Q2 2019 Earnings Call Transcript
• 2U: 2Q'19 Earnings Deck
• Joshua Kim, Inside of Higher Ed: 3 Takeaways from this Week's 2U / OPM News