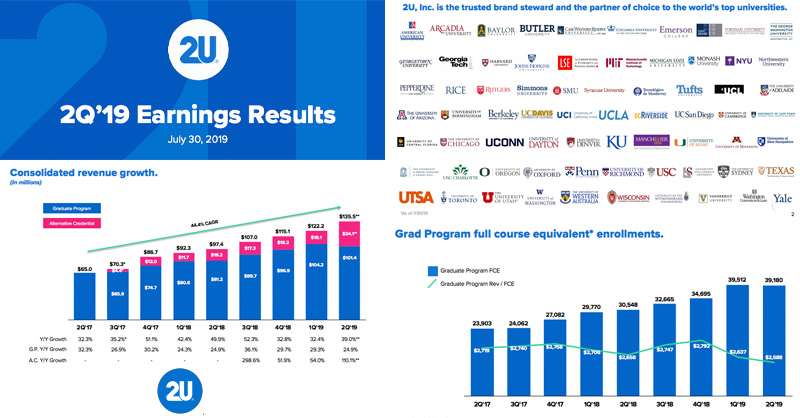 2U, An Earnings Call to Remember: When Wall Street and Higher Ed Are on the Same Page
Mikel Amigot | IBL News
For Wall Street, it's Nasdaq symbol TWOU, and for Higher Ed, it's a dubious OPM (Online Program Manager). Equities research analysts care about the stock rating and target price. After the earnings call on Tuesday, when CEO Chip Paucek and CFO Cathy Graham reset the company's growth expectations for the third time, investment shops rated the stock with either a "Sell" or "Hold" rating. (Yesterday, the stock closed with a loss of 1.72%, ending at a low of $13.65).
TWOU now has a market cap of $813.92 million after shares closed at $13.92 on Tuesday. Two-thirds of its value evaporated in two trading sessions. For the current fiscal year, analysts predict that the Lanham, Maryland, based company will post -1.21 earnings.
The Street isn't that far from our educational community. Hedge funds, institutional investors, scholars, and edtech commentators agree that a huge part of the problem is price. 2U has a questionable business model based on one premise: students pay standard tuition, but instead of going to class once a week, they meet in a live video chat room with the professor and the other students –Wikipedia dixit.
To make matters more contentious, 2U signs long-term contracts, averaging between 10–15 years in length, with each of its partner universities. These contracts include a revenue-sharing agreement between 2U and the school. 60% to 70% of proceeds can be pocketed by 2U since it developed the curriculum, enrollment marketing and behave as a bank. Essentially, schools –almost always cash strapped and addicted to revenue– are signing away their digital future.
2U's approach includes a focus on student outcomes with small class sizes, career services, and field placement. In other words, the entire cost structure is based on procuring high prices from students.
2U takes advantage of the magnet of the powerful brand of universities, who despite their history and reputation are incapable to handle technology, online marketing, and instructional design management. This is how 2U lures Wall Street, who only sees P/E ratios, div yields and charts. The Maryland start-up misses the scalability angle –and this is another surprising coincidence between the financial and educational world.
Designing at scale allows serving the masses which cannot afford credit-bearing programs. Affordability and access are key concepts. It is not about continuing to bankrupt students with the argument of online convenience and college credit.
One sharp analyst detected that on the Tuesday call.
Brett Knoblauch, from Berenberg Capital, asked: "I was reading an article about how Boston University is launching a $23,000 degree with edX. Now with the change of structure in your programs, is this something you might expect that you can now offer with universities?"
CEO Chip Paucek's answer: "We will continue to offer competitive programs in the landscape over the next several years. We have quite a few different MBA programs at different price points, that won't stop so we will continue…"
Brett Knoblauch: "My question is from a tuition pricing standpoint, I feel like you're seeing a lot more of these universities move online, and not only move online but move online to cheaper degrees. Your programs are on the higher end of that market."
CEO Chip Paucek: "We do continue to believe that you have to drive a long-term quality and sustainable business and one that doesn't exist off the backs of the campus programs. So we do think, over time, it's really important that both quality and costs will get considered. Now there's no question that we are working on a variety of things to have — to attack the cost problem very specifically, and we will talk about those in detail at Investor Day.
Oh, yes, the cost problem. "We need to attack it. We got good plans for it."
A technologically cutting-edge, Wall Street maverick company who reached a net worth of $4.7 billion a year ago and built a volatile business dismissing the main problem of the tuition cost.