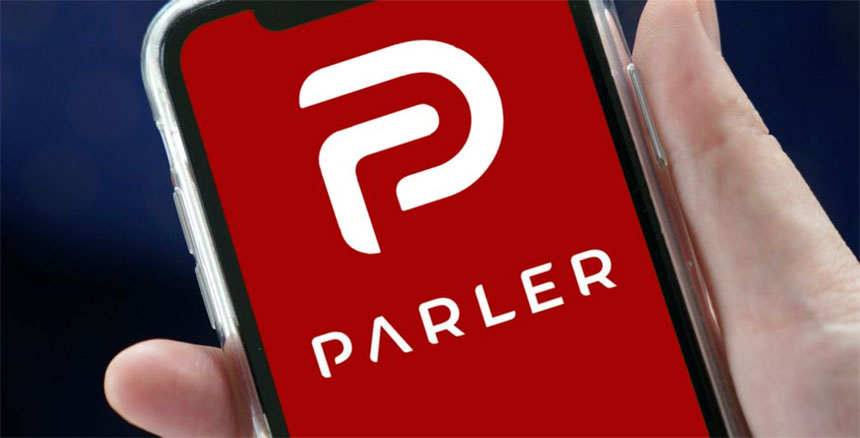 IBL News | New York
Apple, Google, and AWS/Amazon kick Parler off their platform this weekend, arguing that it has not sufficiently examined its users' posts, allowing "dangerous and harmful content" that incites violence and lawless action.
For example, a post, written by L. Lin Wood, a lawyer who had sued to overturn Mr. Trump's election loss, posted on Parler on Thursday morning: "Get the firing squad ready. Pence goes FIRST." The post was viewed at least 788,000 times.
Another message—from a user called @Ronglaister—stated: "Sounds like war! It would be a pity if someone with explosives training were to pay a visit to some AWS Data Centers – the locations of which are public knowledge."
Parler—the alt-tech micro-blogging service and alternative to Twitter—has a significant user base of Donald Trump supporters, as well as users banned from mainstream social networks.
Over the past months, it became one of the fastest-growing apps in the U.S. This Saturday, Parler was listed as the Number 1 in the App Store. Yesterday, it was fighting for its survival, according to its CEO, John Matze, as the service could soon go offline for not being able to find a new hosting service.
"Big tech really wants to kill competition" and "completely remove free speech of the internet," he said in a statement online and in several interviews. John Matze also revealed that "every vendor from text messages to email providers to our lawyers all ditched us too on the same day". [Watch the interview below].
Here's John Matze's statement on Parler. pic.twitter.com/ITK3Rd9hNO

— Davey Alba (@daveyalba) January 10, 2021
After President Trump was kicked off Twitter, Parler was a logical choice to become his next megaphone.
In a letter to Parler on Saturday, AWS/Amazon said that it had sent the micro-blogging company 98 examples of posts promoting violence that were still active. "It's clear that Parler does not have an effective process to comply with Amazon's rules."
On Friday, Apple gave Parler 24 hours to clean up its app or face removal from the App Store. On Saturday, Apple told the company its measures were inadequate and blocked iPhone owners from downloading the Parler app. (Users who already have installed the app will still be able to use it, as long as it is online.)
"We have always supported diverse points of view being represented on the App Store, but there is no place on our platform for threats of violence and illegal activity," Apple said in a statement.
Several social media startups have promised to offer "unbiased" and "free speech" to Trump supporters, such as Gab.com / MeWe, Rumble, DuckDuckgo, Brave Browser, Telegram, Dlive, CloutHub, and MyMilitia.
De-Platforming Trump
On the other hand, several Silicon Valley companies announced they were cutting off President Trump and his supporters from using their services, in light of last Wednesday's riot at the U.S. Capitol.
So far, the firms that are de-platforming the President are the following: Stripe, Snap, Pinterest, Spotify, TikTok, Shopify, PayPal, Reddit, Facebook, Twitter, AWS/Amazon, Apple, and Google.