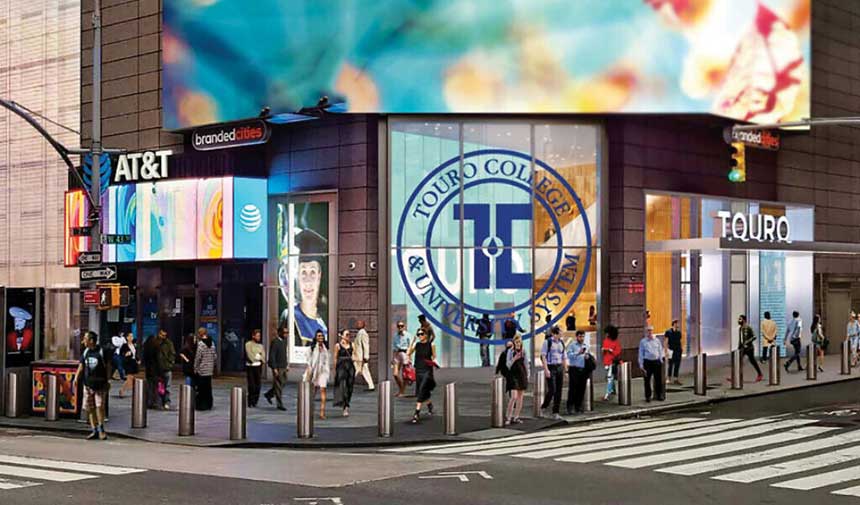 IBL News | New York
Touro College and University System will move its main campus to 3 Times Square in the heart of Manhattan in January 2023. In this iconic skyscraper, the institution will take eight floors and have its own entrance on the corner of Seventh Avenue and 43rd Street.
This month, Touro College, a 50-year history nonprofit institution in higher-ed and professional education, under Jewish auspices, announced plans to set a new 243,305 square-foot campus in that iconic tower — which is owned and operated by the Rudin Family. The lease is for 30 years.
The move reaffirms Touro's focus on in-person learning. "After conducting comprehensive surveys and thorough conversations with faculty, staff, and students, we know our community places great value on in-person learning," said Dr. Alan Kadish, President of the Touro College & University System.
2,000 staff and students will attend class there at 3 Times Square daily.
Seven of Touro's schools will be housed here: the College of Pharmacy (TCOP), New York School of Career & Applied Studies (NYSCAS), Graduate School of Business (GSB), Graduate School of Education (GSE), Graduate School of Jewish Studies (GSJS), Graduate School of Social Work (GSSW) and Graduate School of Technology (GST).
The school will build a library, academic facilities, laboratories, student lounges, and cafes.
Approximately 19,000 students are currently enrolled in Touro's schools and divisions. It has 35 campuses and locations in New York, California, Nevada, Illinois, Berlin, Jerusalem, and Moscow.
In parallel to expanding its footprint in Midtown Manhattan, Touro renewed the lease for its TouroCOM Harlem campus at 230 W. 125th St. for another decade.
3 Times Square was originally constructed as the North American headquarters for Reuters Group PLC in the early 2000s.