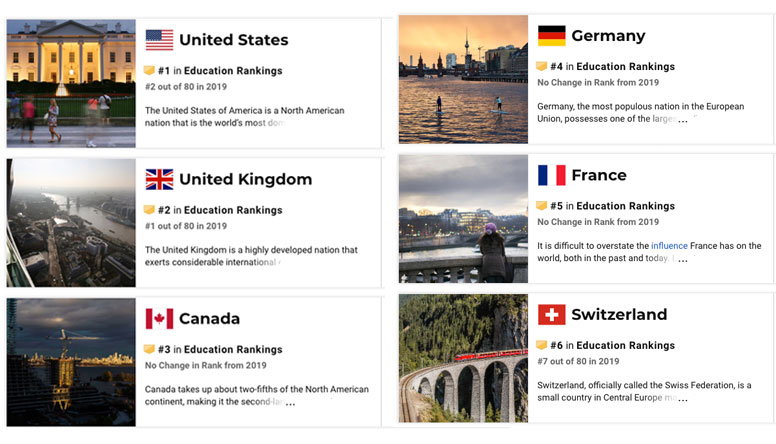 IBL News | New York
The United States stays on top, as number one, in the Education Ranking in The 2020 Best Countries Report, a ranking and analysis project by U.S. News & World Report, BAV Group, and the Wharton School of the University of Pennsylvania. This report evaluated the perceptions of 73 nations across a range of categories, from economic influence to education, to determine which countries wield the most influence.
The U.S. is followed by, in this order, the United Kingdom, Canada, Germany, France, Australia, Sweeden, the Netherlands, and Denmark.
To determine the ranking, the authors considered mostly if countries provide top-quality education, have a well-developed public education system, and whether or not people consider attending a university or higher-level educational degree program.
"The United States of America is a North American nation that is the world's most dominant economic and military power. Likewise, its cultural imprint spans the world, led in large part by its popular culture expressed in music, movies and television," says the report.
Despite its improvement in the ranking, from second to the first place, the authors question the country's direction due to President Trump's policies. "Trump's rhetoric and stances on issues including immigration and foreign trade have raised questions around the world, including from the country's closest allies, about the nation's future course on the global stage."
Beyond education, The 2020 Best Countries Report highlights the following:
Switzerland stays on top overall as the best country in terms of global performance after measuring a variety of metrics. 

Canada

 moves up to No. 2, and 

Japan

 is No. 3. Rounding out the top 5 are 

Germany

 and 

Australia

. The U.K. comes in at No. 6, and the U.S. rose one spot to No. 7.
In terms of trustworthiness, while the U.S. is perceived as the most powerful country in the world, it suffers the greatest decline in trust. The U.K. also fell in this attribute, while 

Greece

, 

South Korea,

 and 

Spain

 improved.
Global anxiety about technology persists. Nearly three out of four people think large technology companies like Facebook, Google and Amazon should be limited, and about the same number agree that technology is displacing jobs.