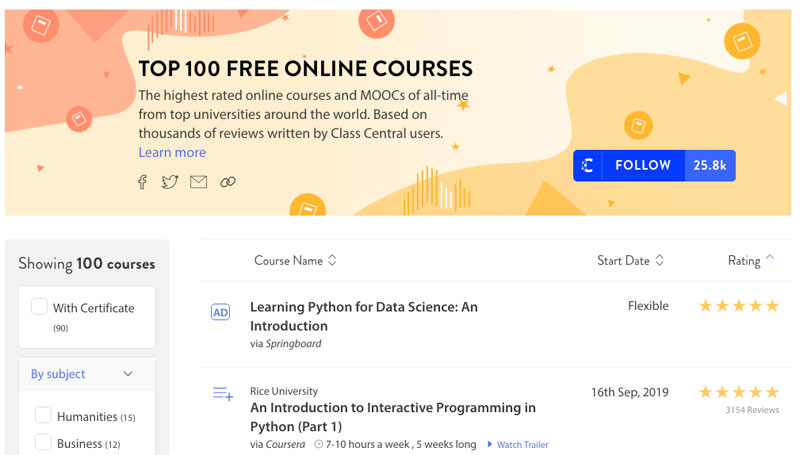 IBL News | New York
Class Central online MOOC directory came up with the 2019 top 100 free online courses of all-time.
These MOOCs have been developed by 53 universities from 18 countries.
Three universities – MIT, University of Sheffield (UK) and University of Cape Town (South Africa) – have three courses in the top 100.
Three other American universities – Stanford, Michigan, and Pennsylvania – have four courses each.
Coursera is the top course platform with 45 courses, followed by edX (24) and FutureLearn (17).
"We first published the ranking in 2016, and have updated it every year since. In 2019, we increased the number of courses in the list from 50 to 100, drawing on more than 60,000 learner reviews," explained Dhawal Shah, Founder and CEO of Class Central.
Globally, there are over 13,000 MOOCs from almost 1,000 universities.
These are the first 50 courses:
Rice University
An Introduction to Interactive Programming in Python (Part 1)
University of Alberta
Mountains 101
University of California, San Diego
Learning How to Learn: Powerful mental tools to help you master tough subjects
University of Tasmania
Understanding Dementia
University of Cape Town
Extinctions: Past and Present
University of Michigan
Programming for Everybody (Getting Started with Python)
University of Tasmania
Understanding Multiple Sclerosis (MS)
Universidad Nacional Autónoma de México
Aprender
Technische Universität München (Technical University of Munich)
Six Sigma: Define and Measure
Santa Fe Institute
Introduction to Complexity
Georgetown University
Quantum Mechanics for Everyone
University of Tasmania
Preventing Dementia
Tomsk State University
Presentation skills: Designing Presentation Slides
Princeton University
HOPE: Human Odyssey to Political Existentialism
Monash University
Maintaining a Mindful Life
McMaster University
Mindshift: Break Through Obstacles to Learning and Discover Your Hidden Potential
Indian School of Business
A Life of Happiness and Fulfillment
California Institute of the Arts
Introduction to Real-Time Audio Programming in ChucK
Vanderbilt University
Introduction to Programming with MATLAB
Harvard University
Justice
Arizona State University
Learning How To Learn for Youth
University of Groningen
Introduction to Dutch
Tsinghua University
Tsinghua Chinese: Start Talking with 1.3 Billion People
University of Cape Town
Understanding Clinical Research: Behind the Statistics
Santa Fe Institute
Introduction to Dynamical Systems and Chaos
Goldsmiths, University of London
Machine Learning for Musicians and Artists
University of Cape Town
What Is a Mind?
University of Urbino
Umano Digitale
University of Helsinki Reaktor
Elements of AI
Monash University
Mindfulness for Wellbeing and Peak Performance
California Institute of the Arts
Sound Production in Ableton Live for Musicians and Artists
Y Combinator
Startup School
The Hong Kong University of Science and Technology
Fibonacci Numbers and the Golden Ratio
The Hong Kong University of Science and Technology
Matrix Algebra for Engineers
California Institute of Technology
The Science of the Solar System
British Council
English for the Workplace
Emory University
The Bible's Prehistory, Purpose, and Political Future
Duke University
Medical Neuroscience
Doon University, Dehradun UGC
Mathematical Economics
The University of Sheffield
Forensic Facial Reconstruction: Finding Mr. X
British Council
English in Early Childhood: Language Learning and Development
The University of Sheffield
Discover Dentistry
Stanford University
Machine Learning
Universitat Politècnica de València
Basic Spanish 2: One Step Further
Leiden University
EU policy and implementation: making Europe work!
Georgia Institute of Technology
Mechanics of Materials I: Fundamentals of Stress & Strain and Axial Loading
Newcastle University The University of Sheffield University of Liverpool
The Musculoskeletal System: The Science of Staying Active into Old Age
University of Toronto
Learn to Program: The Fundamentals
Esri
Cartography
University of Alberta
Dino 101: Dinosaur Paleobiology
The full list of the top 100 rankings is on the Class Central website.