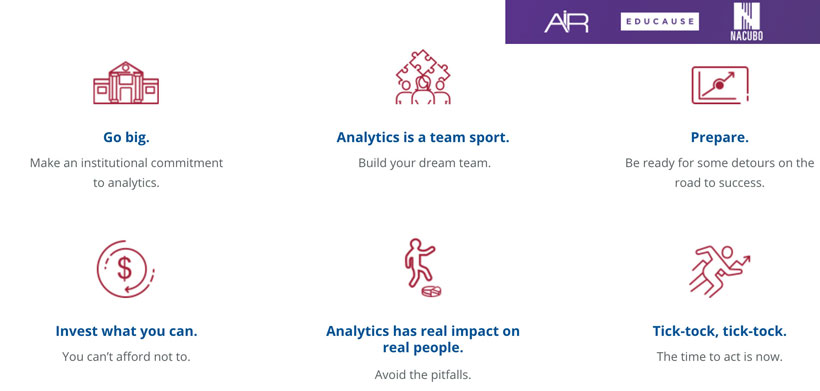 IBL News | New York
Analytics can solve some of higher education's biggest problems.
To reaffirm this idea, and given that progress has faltered, three important associations joined forces and made a collective call-to-action for colleges and universities.
Data and analytics are institutional strategic asset; using analytics to make better decisions will result in improved student recruiting, student outcomes and completion rates, cost management and campus operations, according to these organizations.
Educause, the Association for Institutional Research (AIR), and the National Association of College and University Business Officers (NACUBO) – who collectively serve 2,500 institutions and represent over 80% of post-secondary students in the U.S. – released a statement last month recommending six guiding principles:
Go big—make an institutional commitment to analytics.
Analytics is a team sport—build your dream team.
Prepare for some detours on the road to success.
Invest what you can—you can't afford not to.
Analytics has a real impact on real people—avoid the pitfalls.
Tick-tock, tick-tock—the time to act is now.
"For a while now, our progress on institution-wide analytics initiatives has not hit its stride," said John O'Brien, President and CEO of EDUCAUSE. "We hope this statement encourages a sense of urgency and fosters a deeper understanding of the benefits of data analytics for institutions of all kinds."
The associations created a website to further support colleges and universities in their implementation processes.