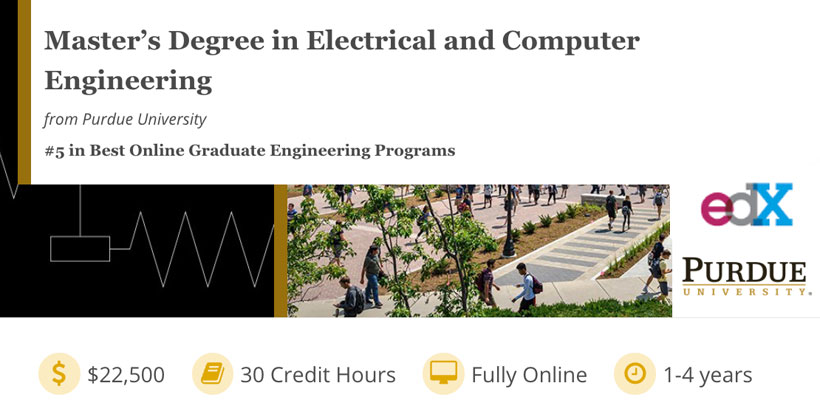 IBL News | New York
edX announced on September 30 the launch of its eleventh MOOC-based degree, reaffirming its role as an OPM (Online Program Manager) company.
The new degree is top-ranked, as the #5 online graduate engineering program according to U.S. News & World Report.
The Master's in Electrical and Computer Engineering from Purdue University School of Electrical and Computer Engineering will cost $22,500, that is, 30 credits at $750 each. The current online master's program in Purdue costs nearly $40,000. The lower price point was made possible in part due to the support from edX and the ability to offer courses at scale, according to Dimitrios Peroulis, school's head.
The Master's will start in January 2020, while the deadline to accept applications extends until November 1.
In July 2019, edX issued an MBA from Boston University. In October, it announced another nine Master's:
Master's degrees on edX are stacked degree programs with a MicroMasters program component. In the case of Purdue, its edX MicroMasters in Advanced Electronics will stack up to the full Master's degree in Electrical and Computer Engineering.
Coursera: 60+ New Courses in September, with IBM and AWS leading the industry
On the other hand, yesterday Coursera communicated that September was one of its most productive month, with the launch of 60+ new courses.
Industry partners IBM and AWS (Amazon Web Services) released Introduction to Deep Learning & Neural Networks with Keras, IBM z/OS Mainframe Practitioner Professional Certificate and Getting Started with AWS Machine Learning.
University partners like Imperial College London, EDHEC Business School, and the University of Illinois issued several courses, too, dealing with a range of topics, from app development to machine learning in finance.
• Blog Post at Purdue.edu: Purdue takes online engineering education to next level