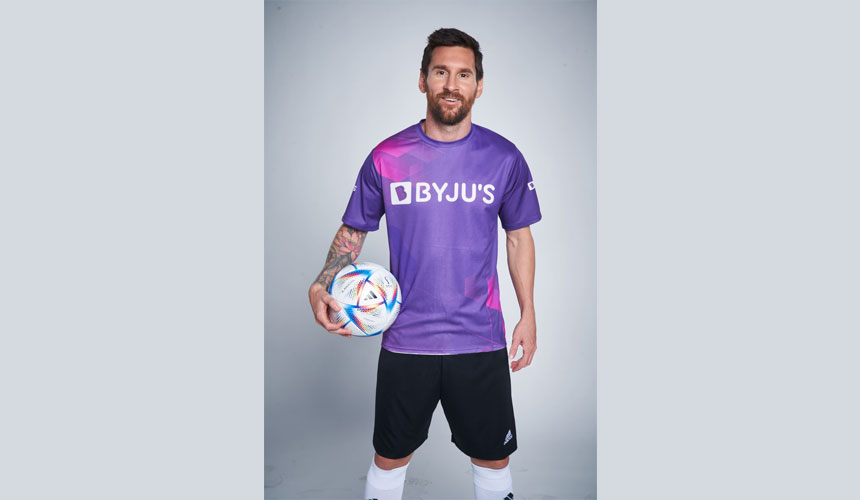 IBL News | New York
The Indian edtech giant BYJU'S hired football star Lionel "Leo" Messi as the first global brand ambassador of its social, non-profit arm Education For All (EFA), to promote the cause of accessible and affordable education.
The BYJU'S agreement with Messi — who plays for Paris Saint-Germain and captains the Argentinian football team — comes after the company became the official sponsor of the FIFA World Cup 2022 in Qatar.
"BYJU'S sees Lionel Messi as 'The Greatest Learner of All Time' whose passion for continuous learning has redefined the meaning of what is possible in football," said the Bengaluru, India – based company.
"He is a once-in-a-generation talent whose pursuit of excellence, all-in mentality, humility, and reliability resonate deeply with BYJU'S brand values," added Divya Gokulnath, Co-Founder of BYJU'S.

Lionel Messi, who also runs his own charitable organization, the Leo Messi Foundation, said, "High-quality education changes lives, and BYJU'S has transformed the career paths of millions of students worldwide."
Football has roughly 3.5 billion fans worldwide, and Lionel Messi has a social media following of nearly 450 million.
With offices in 21 countries, BYJU'S claims to serve 150 million students across the world through personalized and adaptive content. In 2020, the company created BYJU'S Education For All to reach and teach at least 10 million children free of cost by 2025. A prolific patron of sports, BYJU'S is also the official jersey sponsor of the men's and women's national cricket teams of India.