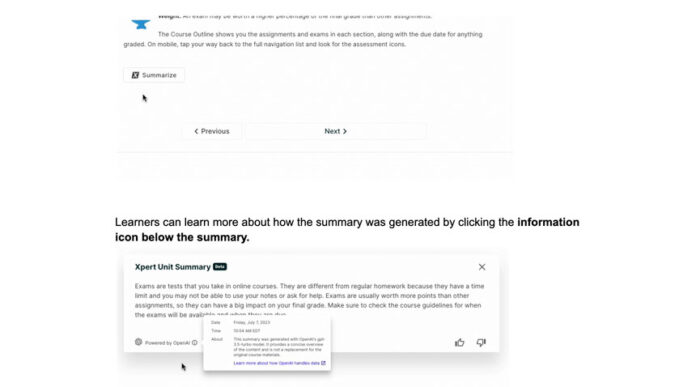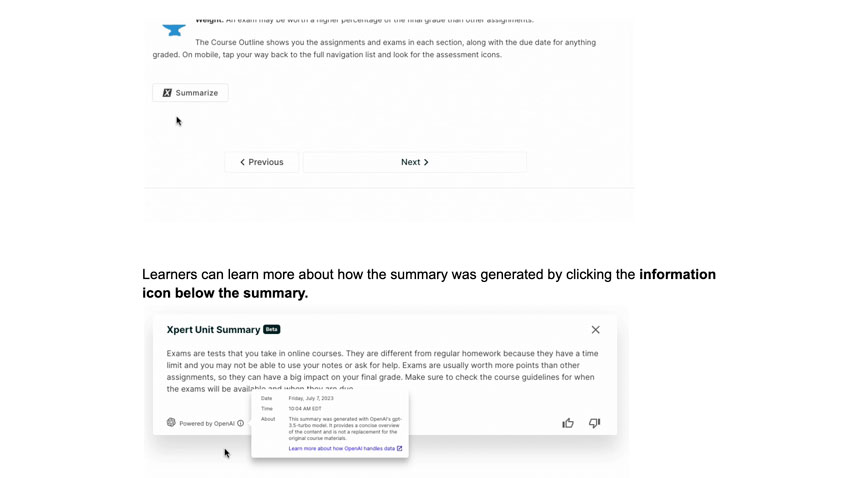 IBL News | New York
The edX platform — owned by 2U Inc. — announced last month Xpert Unit Summaries, an AI feature powered by OpenAI that partners can enable in their courses. It provides concise summaries of core concepts found in text and videos, allowing learners to reinforce the information contained in the unit.
Learners just need to click the Summarize button at the bottom of the unit. They can leave feedback using the thumbs-up and down icons at the bottom right of the summary card. This feedback is only shared with edX for the purpose of improving the tool.
Another upcoming feature is Social or Viral Sharing, a tool to market courses via learners' social networks.
It allows to drive more attention and enrollment in courses by allowing students to share their best course videos on X, Facebook, LinkedIn, and other messaging apps.
By enabling this feature, course teams are opening their content for public view.
Social media users who click on the shared link will be brought to a marketing page that includes the shared video and a call to action to learn more about the course.
Both of these upgraded features need to be enabled in Studio, the platform authorizing tool, by navigating to the Content and Pages & Resources menu in the top navigation menu.
The edX / 2U team has scheduled a virtual meeting named the Educator Conference on November 14, 2023. This year's theme is Innovations in Online Education: Adapting and Thriving in Times of Change.
On the other hand, the 2U organization announced on September 28, more layoffs. No exact number was reported. This has been the third round of layoffs.
"This decision, although tough, is necessary to align our operations with the evolving needs of our business and propel us forward," explained Christopher "Chip" Paucek, CEO of the company in a blog post.
Outgoing employees will receive "competitive severance pay, health coverage, tuition forgiveness, and job transition support," he added.
The company has set up a Talent Hub for recruiters.
ClassCentral.com reported that 2U's stock price has dropped by 60% this year, with a market capitalization of just $200 million, well below the $800 million it paid for edX.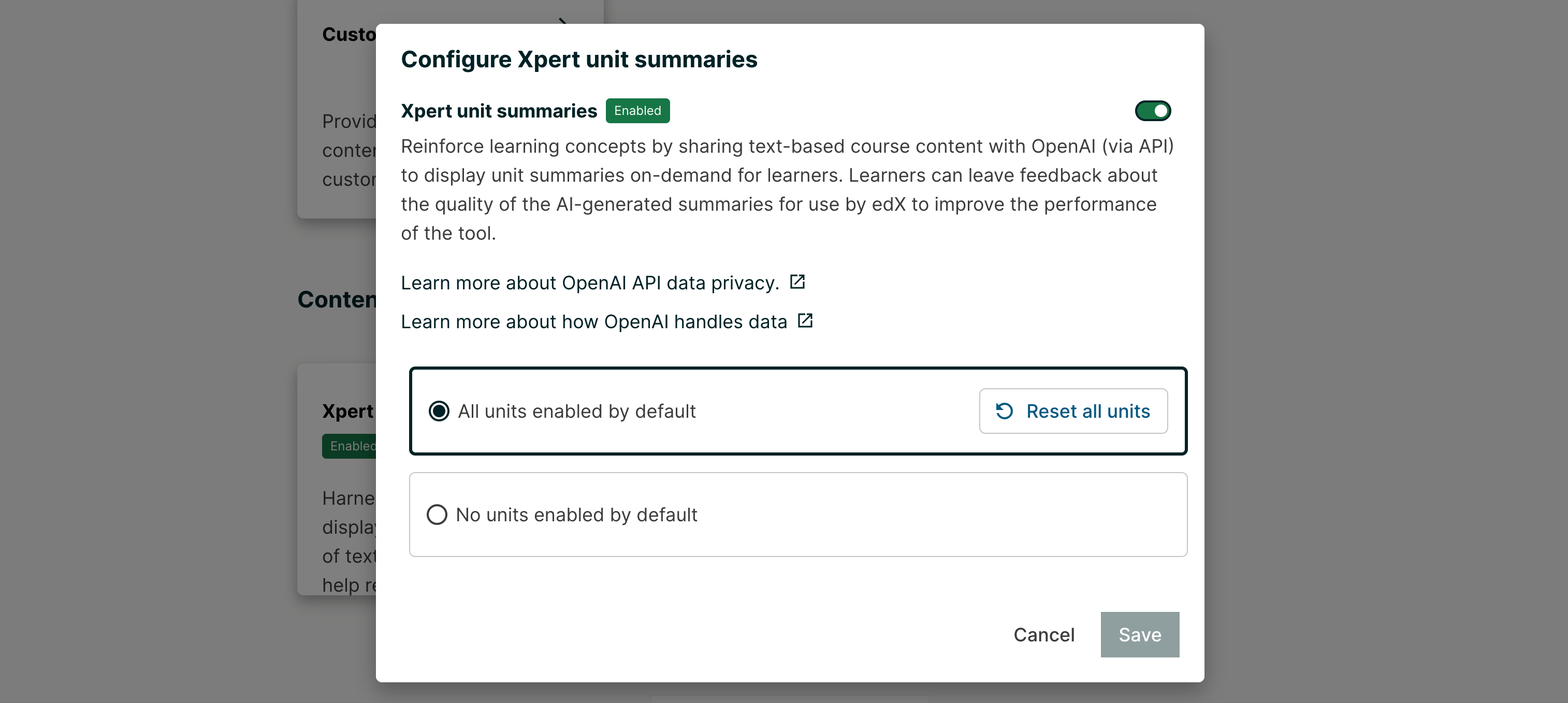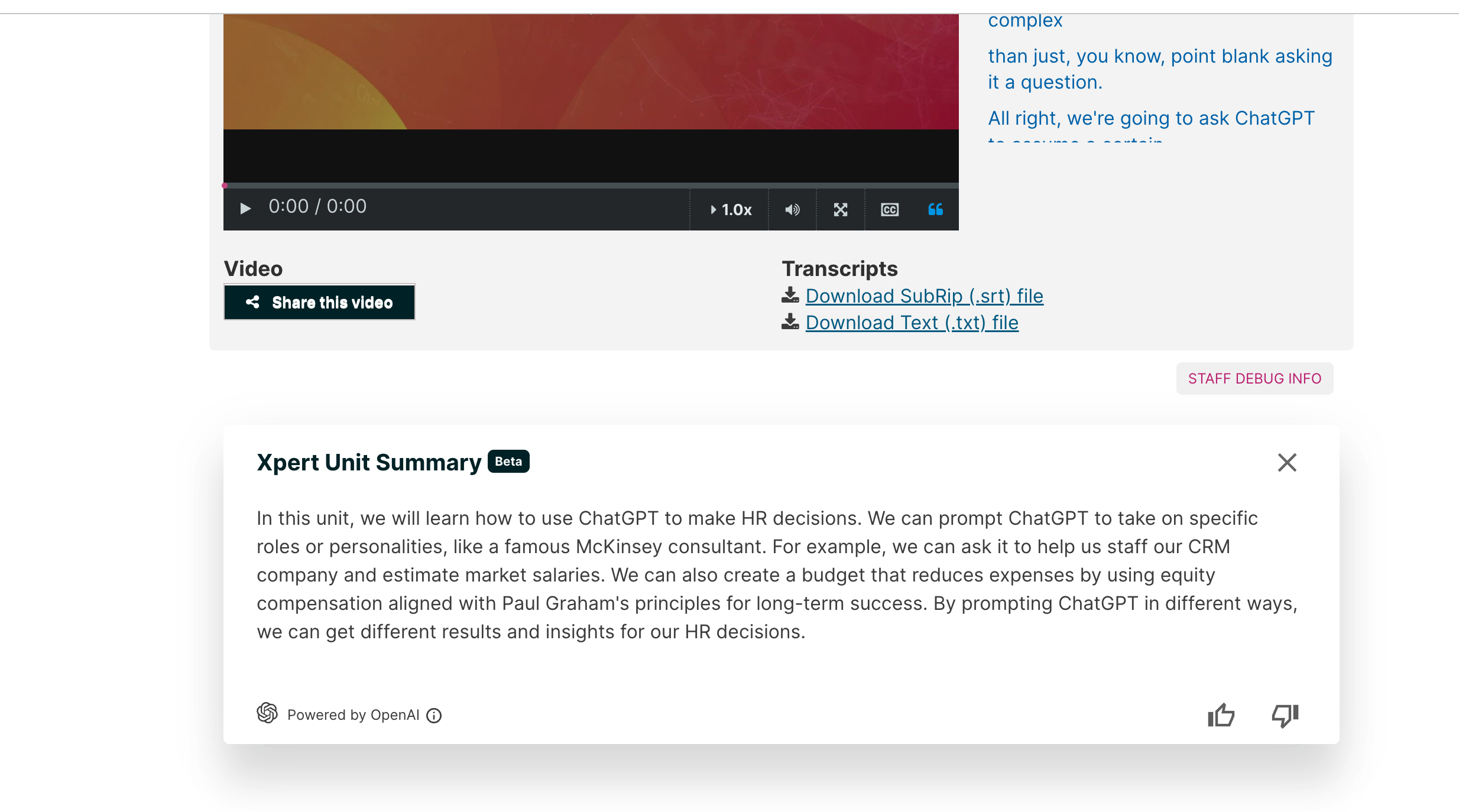 On the other hand, Anant Agarwal, Chief Platform Officer at edX's parent company, 2U, said in an interview with Fortune, "AI is going to be very beneficial in education, but we have to do it right."
"My strong view is that much like the calculator democratized numeracy, I believe ChatGPT is democratizing writing literacy."
Very soon, instead of writing everything from scratch, Agarwal predicts we may use templates or drafts created by generative AI and then cater the content to what we need.
Teachers are also using generative AI to help form lesson plans, create practice problems, and assist in teaching.
"Everybody will be using AI in their jobs," Agarwal said. "So you need to learn and get upskilled to learn and upskill in how AI will help you do your current job better."
"We're not going to lose jobs because of AI. But while I might not lose my job to AI, I might certainly lose it to somebody else who is able to use AI better than I can," Agarwal explained.

The World Economic Forum predicts that half of the global workforce may need to upskill or reskill by 2025. 1.1 billion jobs may be "radically transformed" by technology over the next decade, the organization added.
edX hosts a number of online AI trainings on topics like ChatGPT and prompt engineering. It also is partnered with UT-Austin and offers an online master's degree program in AI.