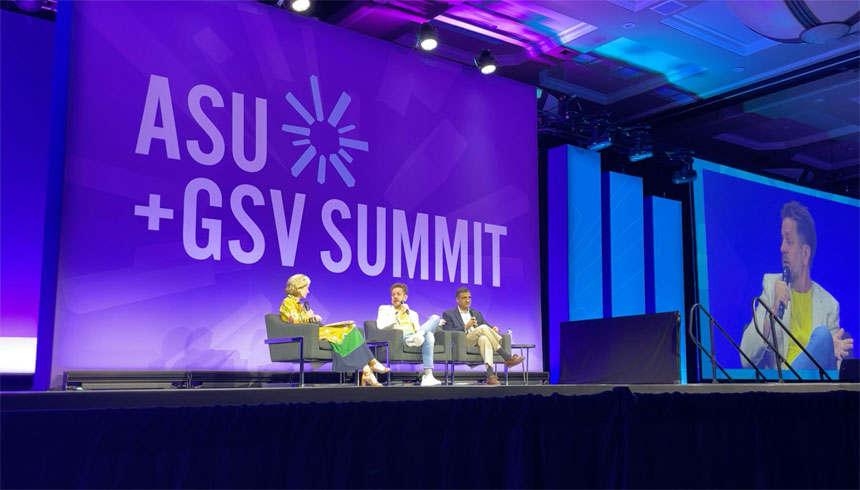 IBL News | New York
On the last day of the ASU+GSV Summit, Chip Paucek (CEO of 2U Inc.) and Anant Agarwal (CEO of edX) appeared together for the first time publicly, with the mission to convince skeptics and critics of the goodness and benefits for the industry of their recent merger.
The two executives appeared on stage in the main session of the third and final day of the ASU+GSV Summit, which took place in San Diego this week. Deborah Quazzo, Managing Partner of GSV Ventures moderated this fireside chat.
Chip Paucek and Anant Agarwal shared the same message of alignment in the mission and plans for the future. "The mission commitment made this deal," 2U's CEO said, and the edX chief responded, "No doubt."
"We will become the most powerful learning platform in the world," said Paucek. "2U is Alphabet and edX, Google."
Acknowledging the difficulties of merging a Wall Street traded corporation with an educational non-profit organization, Anant Agarwal said: "Profit and non-profits are like oil and water, but in this case, 2U has legally abide by our mission."
Deborah Quazzo asked about the Open edX open-source software, which will be governed by a newly created non-profit organization by MIT and Harvard University. Chip Paucek insisted on 2U's commitment to becoming the first contributor to the Open edX software, and said: "We believe in the open-source movement."
Anant Agarwal reinforced the idea by saying that "2U has become the world's biggest developer of Open edX."
Chip Paucek also disclosed that Anant Agarwal's son, Akash was working as an intern at 2U, which helped in their two organizations' alignment.
Agarwal highlighted that the Open edX will be enhanced with the new influx of financial resources, and anticipated that "AI will be built in a broader way."
Executives of the two organizations traveled to San Diego to meet and know each other, and for two days socialized and tried to bond.
• IBL News Video: Conversation on the future of Online Education: Deborah Quazzo talks to Chip Paucek (2U) and Anant Agarwal (edX) 
Can't imagine a better way to cap off 3 incredible days at @asugsvsummit than to speak alongside @agarwaledu about the future of higher ed & how the #2UedX combination will benefit generations to come: https://t.co/G4lxVBpkHQ (1/2) pic.twitter.com/D1Nxt1W8vG

— Chip Paucek (@chippaucek) August 11, 2021