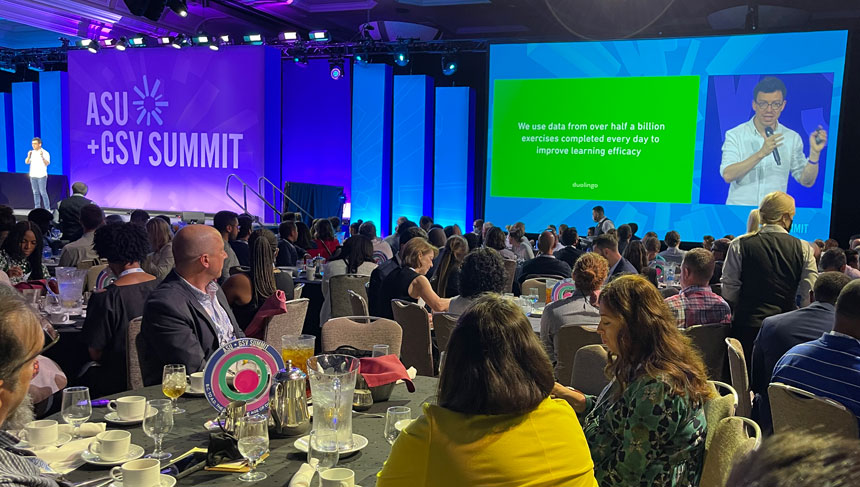 IBL News | New York
With unprecedented measures against the COVID Delta variant — reflected in the request of double vaccination and PCR test for attendees — the leading EdTech conference in the world, the ASU+GSV Summit begun yesterday.
Around 3,000 attendees flocked to San Diego's Manchester Grand Hyatt Hotel, where the three-day event is taking place this week (9-11 August). A mix of wealthy investors looking for opportunities, rising start-ups, successful and aspiring entrepreneurs, academic presidents, and managers paid $3,500 for the entrance — nonprofit organizations paid one-third of it.
Organizers managed the event smoothly, without the need to enforce the mandatory rule of wearing masks. The exception happened during lunchtime in the large ballroom of the hotel where hundred of attendees stayed maskless.
The atmosphere among participants was relaxed. ASU+GSV insisted on the message, advertised on large screens, "We're family", in an attempt to calm the anxiety due to COVID / Delta. However, some speakers canceled at the last minute, afraid of the Delta variant spread. Moderators of the panels avoid mentioning it, and those speakers were simply removed.
The 12th edition of the ASU+GSV adopted a hybrid format, with many talks broadcasted through the app. Virtual registration was free. The video stream worked fine.
The event features 600+ speakers on a variety of subjects tackling higher-ed, K-12, workforce, and global education concerns. The summit includes the GSV Cup pitch competition for pre-seed and seed-stage education technology startups for $1 million in prizes. More than 700 startups have been judged by over 150 venture capitalists across the globe. The top 10 will compete at the summit, and the audience will vote for the winners.
Arizona State University (ASU) President, Michael Crow, was once again the involuntary star due to his permanent focus on innovation. He participated in the first three panels in the morning, developed all in a tiny room packed with attendees. "We are at the beginning of innovation. Everything has been transformed except education," he said.
During the panel titled "Hollywood and Higher Ed Meet Up", Michael Crow presented, along with film producer Walter Parkes, the Dreamscape Learn project, "a learning breakthrough initiative", in his words.
A staff of 125 people works on this exploration project based on creating immersive, Hollywood-quality virtual environments where students interact with an avatar.
Crow criticized the fact that there is almost no national investment in education. "The U.S. laboratories are dedicated to everything but education."
Another initiative presented yesterday was the "Cintana Alliance," a partnership between ASU and consultant and investor Doug Becker's company, intended to introduce a new model for global universities.
.@asugsvsummit discussion around #DreamScapeLearn with Michael Crow and Walter Parkes. Starting with Artificial Intelligence in biology classes @ASU Reversing the trend of low student engagement at the University level. #asugsvsummit #ASUGSV pic.twitter.com/5msTRCTu9n

— Matt Miller (@LakotaSuper) August 9, 2021
Day 1 of @asugsvsummit has been truly delightful, especially spending time with so many fantastic colleagues I have missed so much. #asugsv2021 #asugsvsummit
(Vaxxed+ negative test+masking indoors)
❤️☺️ pic.twitter.com/SWyEVjIHRk

— Dr. Bridget Burns (@BBurnsEDU) August 10, 2021
Congrats to our very own President and CXO @kat_thegeek for winning this year's #PowerOfWomen award from @gsvventures at @asugsvsummit. Kat's put nine years into making Degreed a pioneering company, and we wouldn't be where we are today without her. pic.twitter.com/ZHnPYEo1FO

— Degreed (@degreed) August 9, 2021