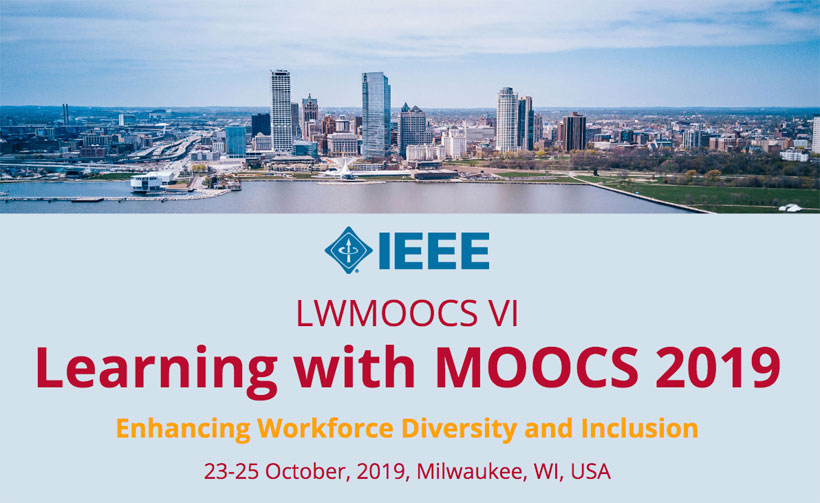 IBL News | New York
Organizers of the IEEE Learning with MOOCs 2019 conference (October 23-25 in Milwaukee, WI) unveiled to IBL News the preliminary list of speakers at the event.
Kerry Douglas (Assistant Professor, Purdue University), "Evaluation for advanced STEM MOOCs (preliminary)"
Zachary A. Pardos (Assistant Professor, UC Berkeley), "Learning analytics, deep learning in education, and MOOC data analysis (preliminary)"
Kristina Wilson/Bonnie Tomlin (Wisc-Online-Wisconsin Technical College System), "Basic Computer Skills Course MOOC – Creating a MOOC from the Ground Up"
Anant Agarwal (CEO, edX), "The Future Learner"
Dhawal Shah (Founder and CEO, Class Central), "A Product at Every Price: Overview of MOOC Monetization Models"
Manoel Cortes (Engineer & Writer, Class Central), "Communicating Effectively about MOOCs: Approach & Takeaways"; "The Full-Time Online Student: Benefits & Limitations"
Carlos Delgado-Kloos (Vice President, Universidad Carlos III de Madrid, Spain), "MOOCs for Development: Experience from the MOOC-Maker and COMPETEN-SEA Projects"
Rocael Hernandez (Director Galileo Educational System, Universidad Galileo), "Next Decade Challenges and the Role of MOOCs"
Carina S. González (Universidad de La Laguna, Spain), "Technology for STEM and diversity (preliminary)"
Ting-Chuen Pong (Professor, Hong Kong University of Science and Technology), "Experimental Learning and MOOCs (preliminary)"
Carina S. González (Universidad de La Laguna, Spain), "Gamification and Fun in MOOCs (preliminary)"
Manuel Castro (Professor, IEEE Division VI Director & UNED, Spain), "New Practical Competences in MOOCs"
Kristina Wilson (Learning and Development Designer for Learning Innovations, Fox Valley Technical College) and Bonnie Tomlin (Learning Innovations Multimedia Developer), "Creating a MOOC from the Ground Up"
The sixth edition of the LWMOOCs (Learning with MOOCs) reunion will be held on the campus of the Milwaukee School of Engineering for three days at the end of October.
"Keynote speakers from academia and industry will discuss learning analytics, diversity in MOOC audiences, using machine learning to guide learning timelines, and experiences creating and managing MOOCs taken by hundreds of thousands of users," said Professor Manuel Castro, a member of the steering committee.
This year the theme will revolve around "Enhancing workforce diversity and inclusion."  In addition, the technical program includes the following topics:
Increasing diversity through educational access
Assistive and inclusive MOOC techniques
Expanding the learner community through MOOCs
Social implications of MOOCs
Open content, open licensing, and MOOC delivery
International cooperation in MOOC projects
Using MOOCs in employee training
Learning analytics in MOOC courses
Machine Learning, AI, and MOOC delivery
The IEEE Learning with MOOCs conference will attract an international audience of researchers and practitioners.
One-hundred or more attendees will converge on Milwaukee from all over the world. Representatives from academic institutions such as MIT, Columbia, Purdue, Wisconsin Technical College System, North Dakota State, Old Dominion, Georgia Tech, Berkeley, the Spanish Distance University, Carlos III University, La Laguna University, Hasso Plattner Institut, Hochschule Bonn-Rhein-Sieg, University of Turku, Tokyo Tech, Victoria University of Wellington, have already confirmed their attendance.
Similarly, representatives from the industry and government institutions like edX, MathWorks, FutureLearn, ClassCentral, IEEE, the American Museum of National History, the India National Institute of Technical Teachers Training and Research, and Evimed have also registered.
The IEEE Learning with MOOCS event will be sponsored by edX, ClassCentral, FutureLearn, the IEEE Education Society, the IEEE Milwaukee Section, and the Milwaukee School of Engineering. IBL News will be the Media Partner.