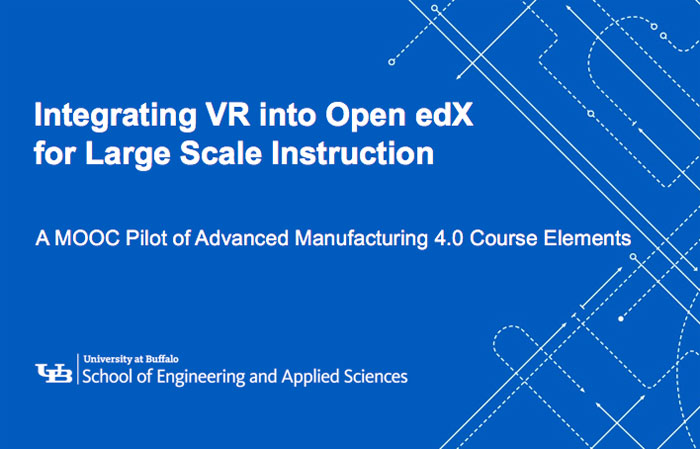 The University at Buffalo (UB), part of SUNY system, presented this Thursday 19 a pilot of an integration of Virtual Reality (VR) into the Open edX platform intended for large-scale instruction.
In partnership with IBL Education and Crosswater Digital Media, a Buffalo-based VR content firm, the initiative was conducted by the School of Engineering and Applied Sciences at UB on a MOOC pilot of Advanced Manufacturing 4.0 Course Elements.
Attendants opened an account on the new UB Open edX platform, enrolled in the Collaborative Robot (Cobot) Safety MOOC, and experienced a 360-degree video by using cardboard goggles. The pilot demonstrated the advanced Cobot functionality.
Tim Leyh, Executive Director at the Center for Industrial Effectiveness (TCIE) at UB, used Industry 4.0 as a case to show how mass delivery of immersive VR can impact workforce development.
"Last week at the Serious Play Conference, UB demonstrated that Virtual Reality can be delivered via Open edX.  This is a "game changer" for higher education," explained Lisa Stephens, Assistant Dean to Digital Education and Strategist in Academic Innovation at SUNY.
"Open edX clearly offers significant advantages for the future growth of this collaboration," she added.
[Disclose: IBL Education is contractually engaged with SUNY University at Buffalo].