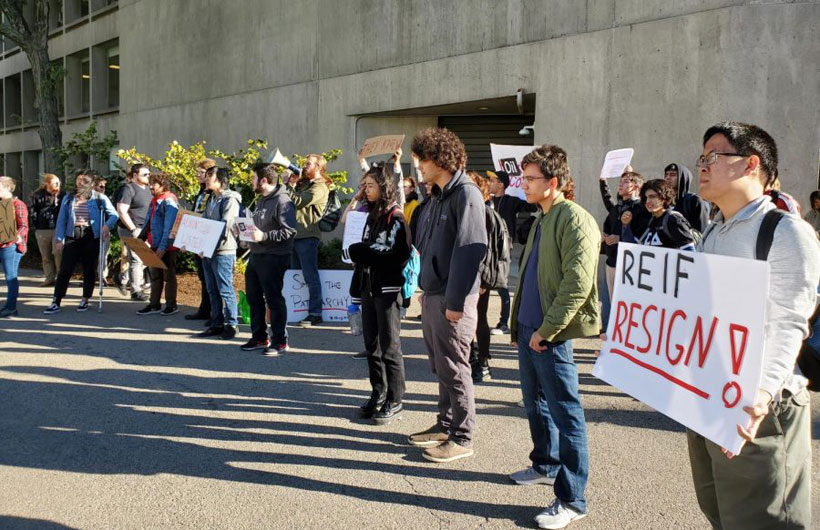 IBL News | New York
Groups of MIT students and faculty continue to speak out against MIT's ties to Jeffrey Epstein and David Koch, despite President Reif and other leaders making efforts to engage protesters and promises to turn toward accountability.
The Tech, MIT's largest newspaper, published by the students of the institute, is reporting about those protests, which now go beyond Epstein's coverup of donations.
In the last demonstration, protesters called for the removal of Koch's name from all buildings on campus. Ryan Aasen G, an organizer, said that the ongoing funding investigation and environmental violations committed by the Open Agriculture Initiative "exemplifies the disconnect this administration has to the seriousness of the reforms needed at MIT."
In addition, Aasen elaborated that Koch was responsible for spending "billions of dollars lobbying for the roll back environmental protections, funding climate change denial, and fighting against Americans' right to affordable healthcare."
"Radio Silence"
On the associated Facebook event page, MIT Students Against War wrote that the MIT Corporation "cares more about taking money from billionaires than about harms done to women, children, immigrants, poor people, and the environment," citing the acceptance of funds from "a child sex trafficker (Jeffrey Epstein), a murderous prince (Mohammad bin Salman), destroyers of the environment (the Kochs), and dubious corporations." 
"I'm very concerned about MIT's leadership ethics in taking money from Epstein and the way that they have been dismissive of student concerns," said Edmund Bertschinger, a physics professor at MIT who protested at the rally.
Along with demanding Reif's resignation, protesters called for the resignation of Professor of Mechanical Engineering Seth Lloyd and several members of the MIT Corporation. Others led chants to "democratize MIT" and called for the creation of a faculty-led senate who would have a final say in donations accepted by MIT.
Organizers said MIT has not responded to their protests, a point of concern for them – The Huntington News reported.
"It's mostly been radio silence, and that's concerning because a lot of people really want to hear a response," said Nathan Foster, an organizer with UnKoch My Campus from Tufts University.