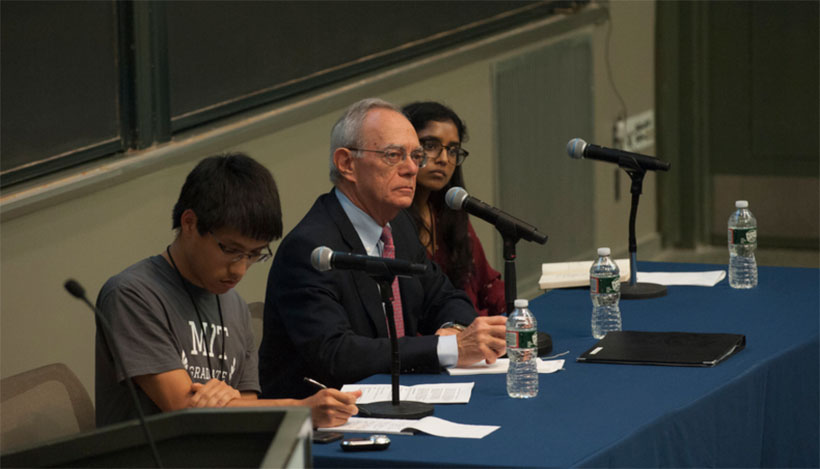 IBL News | New York
Over 350 students attended a forum at MIT on Tuesday to vocalize their concerns towards President Reif and MIT's treatment over the Epstein's scandal.
Undergraduate and graduate students expressed their disappointment with respect to transparency in accepting donations, treatment of female-identifying members of the community, and prioritization of money over student sentiment, according to The Tech.
Students who spoke also demanded that Professor Seth Lloyd, who accepted gifts from Epstein and visited him in prison, resign.
One student questioned the ethics of the College of Computing, funded by Stephen A. Schwarzman. "One thing we can learn from the Epstein scandal is that there's no such thing as money without strings attached. How can MIT talk about a new college being at the forefront of ethics, when its main funder was a Trump advisor, is pushing poor people out of their homes, partnering with some of the most repressive governments in the world, and burning down our planet?"
President Reif, Chancellor Cynthia Barnhart, and 22 deans and department heads including Vice Chancellor Ian Waitz and Vice President and Dean for Student Life Suzy Nelson attended the gathering.
Rafael L. Reif addressed the issues. This is a summary of his statements:
"The past few weeks have been a time of great distress for our community. I expect that the extant situation has left you feeling sad, disappointed, hurt, and angry, including angry at me, so I want to begin by saying, with my whole heart, that I am deeply sorry for the actions I took and failed to take that have been part of bringing this trouble to all of you, the students of MIT," Reif said.
"In this time of growing fortunes and shrinking federal funds, we need to look at everything, from the changing nature of the donor population, to how we should weigh the political, physical, cultural, and economic impacts."
"Female faculty, students, and staff across MIT are telling me that this is our last straw, that allowing Jeffrey Epstein to stain our reputation was only the latest example of how many in our community devalue the lives, experiences, and contributions of women and girls."

"I'm committed to make this moment of crisis a moment of reckoning in our turn toward real accountability, and I believe that in the process, there will be a very important role for students because the future of MIT belongs to you. … I believe that together, we can find a way to transform so much pain for so many people into some enduring good for MIT."
"The Institution does what it wants to do with a gift for research, but it's not controlled by the donor; that's the level of principle we have right now. That may have worked very well in the past, but it just doesn't work anymore today, so those principles have to be revisited. … That's something we're going to be doing exactly now. We're going to be involving the community to address those principles."
Update:
Dozens of people participated Friday afternoon in Cambridge, MA, in a protest organized by 'No Dark Money at MIT' group against Epstein's donations. The demonstration was organized to coincide with the annual meeting of the MIT Corporation.

The Tech: Student forum about MIT-Epstein relations held with Reif, senior admin present